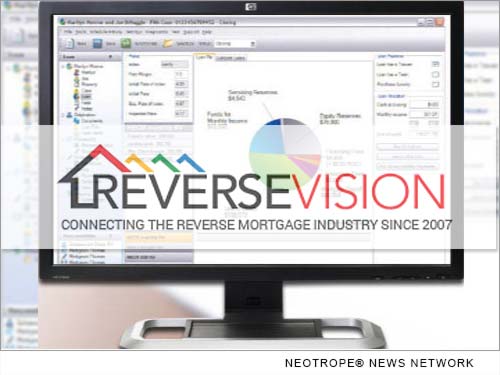 SAN DIEGO, Calif. /California Newswire/ — ReverseVision, Inc. has announced its newest credit report partnership with Certified Credit Reporting, a nationwide provider of credit reports and mortgage information services. This integration within RV Exchange (RVX), ReverseVision's flagship reverse loan origination system (RLOS) platform, increases RVX users' choice of automated credit report services.
Reverse mortgage lenders use RVX for the full lifecycle of the loan-from initial proposal through application, underwriting, closing and post-closing. Since Financial Assessment (FA) in April 2015, each borrower needs to show a general credit standing of satisfactory. Credit may be used as an indicator the borrower has the ability to pay taxes and insurance on their property. Otherwise a Life Expectancy Set Aside (LESA) may need to be established for their loan. This change in policy, very similar to what is standard with a forward loan, makes the reverse loan more secure for both the borrower and the investor.
"We here at Certified Credit are so excited to be joining with ReverseVision. For over 30 years we have been a key vendor in the traditional mortgage market and now we get to share our expertise with the reverse mortgage lenders," said Certified Credit CEO Lucy Kereta-Block. "Our commitment to passionate service and innovative products creates a more profitable and more efficient lending environment."
"Certified Credit Reporting is already a trusted provider of mortgage information services to lenders nationwide and their emphasis on attentive customer service makes this relationship a natural fit," said president and CEO of ReverseVision John Button.
About ReverseVision:
Recognized as a Deloitte's 2015 Technology Fast 500(TM) Company, ReverseVision, Inc. ( http://www.reversevision.com/ ) is the leading software and technology provider for the reverse mortgage industry offering products and services focused exclusively on reverse mortgages. More reverse mortgages are originated monthly using ReverseVision's RV Exchange platform than all other systems combined. ReverseVision has partnered with some of the finest and fastest growing lending organizations in the U.S. to provide the leading reverse mortgage technology to brokers, correspondents, lenders and investors. ReverseVision is recognized as a driving innovator in the reverse mortgage industry. ReverseVision continues to improve their software with frequent new innovations building on pioneering capabilities in reverse mortgage interactive graphs, scenario analysis, multi-environment performance analysis and workflow in the origination process.
About Certified Credit Reporting:
Certified Credit Reporting is nationwide leader in the credit information industry. Since its founding in 1984, Certified Credit Reporting has consistently offered its customers the most comprehensive line of mortgage, commercial, employment and tenant reports in the industry. Its business model is focused on creating the most efficient and accurate services available to meet the demanding requirements of its clients. Certified Credit Reporting utilizes the most advanced technology enabling its users to retrieve reports for viewing in a matter of seconds. Certified Credit Reporting customer accounts are assigned to a team of experienced representatives serving clients in their time zone. A nationwide service provider with processing centers on both the east and west coasts, Certified Credit Reporting prioritizes customer service to support its full complement of products and services. For more information call John LaBriola at 800 769-7615.
TWITTER: @ReverseVision
For questions or comments regarding the above news announcement, contact the company/organization(s) mentioned in the text, and not this website.
Copyright © 2015 CaliforniaNewswire® and Neotrope®. California Newswire is a publication of the Neotrope News Network and a U.S. reg. TM of Neotrope.