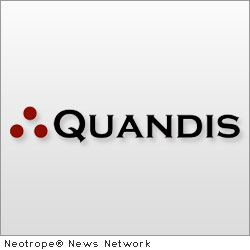 FOOTHILL RANCH, Calif. /California Newswire/ — Quandis, Inc., a leading provider of default management technology solutions, announced that is has been selected as a Top 50 Servicer Provider by Mortgage Technology magazine back-to-back years.
According to officials at the magazine, in order to make the list companies must excel in four primary categories: the continued advancement of technology and services; have a viable revenue model and value proposition to customers; provide exceptional customer service; and make a unique impact on the mortgage industry. Vendors that make the list must also have a proven track of success and offer highly innovative, advanced technology to lenders, servicers and other mortgage industry participants.
"Making Mortgage Technology magazine's revered Top 50 Service Providers list for the second year in a row is a testament to our developing leading technology that solves an array of problems in the highly fluid default servicing space," said Scott Stoddard, CEO of Quandis. "We've been growing at an enviable rate the past couple of years, which is the direct result of our ability to deploy flexible and configurable SaaS-based solutions and provide excellence in customer support. We are pleased to again be recognized for our progress and achievements in the industry."
Over the past year, Quandis launched a number of new solutions, enhancements and integrations, including short sale portals, case management system integrations, military search services, vendor module locators, valuation solutions, integrations with various servicing platforms and custom application development.
About Quandis:
Founded in 2003 and headquartered in Foothill Ranch, Calif., Quandis is a default management software provider specializing in Web-based solutions for the lending industry. Quandis' solutions include foreclosure process automation, short sale portals, skip tracing systems, a valuations hub, military search services, bankruptcy status searches, collection solutions, vendor solutions, as well custom application development. The company's clients range from lenders to banks, servicers, foreclosure attorneys, GSEs outsourced service providers, and agents and brokers. With over 20 years of experience in developing solutions, Quandis understands the unique requirements necessary to deliver enhanced workflows and business-to-business communications. Quandis was named to Mortgage Technology Top 50 Servicer Provider. For more information, please visit http://www.quandis.com or call (949) 525-9000.
About SourceMedia:
SourceMedia owns Mortgage Technology magazine. The company provides market information, including news, analysis, and insight to the financial services and related industries such as accounting and technology, through its publications, industry-standard data applications, seminars and conferences. SourceMedia's 750,000 worldwide clients and subscribers range from c-level executives to business-unit heads to line managers – from the front office to the middle office to the back office. The company employs more than 1,000 employees worldwide, with headquarters in New York and offices in Chicago, Washington, D.C., and London.
Copyright © 2012 CaliforniaNewswire® and Neotrope®. California Newswire is a publication of the Neotrope News Network and a U.S. reg. TM of Neotrope.