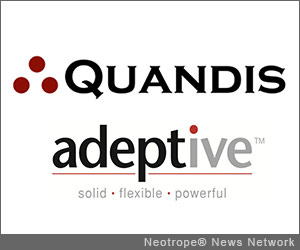 FOOTHILL RANCH, Calif. /California Newswire/ — Quandis, Inc., a leading provider of default management technology solutions, and Adeptive Software, the developer of ResWare(TM), announced that they have with integrated Quandis' interface to the government's Public Access to Court Electronic Records (PACER) database for bankruptcy searches.
The integration eliminates the need for ResWare(TM) users to manually run searches on the government's PACER Web site for borrowers that are in, or have had a bankruptcy, which saves time, prevents missed information, and eliminates data entry errors. Quandis' interface to PACER seamlessly returns time sensitive bankruptcy data into ResWare for processing.
The ResWare platform is a title production and process flow software solution that automates the workflows for title companies to efficiently and accurately complete transactions throughout the entire title and escrow process. Quandis developed a direct, automated search of PACER's bankruptcy case locator.
"By utilizing our direct interface to PACER, ResWare users are able to circumvent a manual search for bankruptcies on the PACER Web site, returning accurate results in a seamless, automated fashion back into ResWare," said Scott Stoddard, CEO of Quandis. "Put simply, this integration prevents errors that accompany manual data entry."
"Automating the search of the PACER Web site via Quandis' interface advances the process significantly. ResWare users will now be able to focus on the results of the search rather than the steps involved in obtaining those results," shares Bryan Buus, president of Adeptive. ResWare's integration with Quandis' interface to PACER can be utilized by servicers, default law firms, title and escrow companies, and third party outsourcing agencies. Transactions such as bankruptcies, foreclosures, REOs, short sales, skip traces and other default related transactions can be executed using the new integration.
Note: Public Access to Court Electronic Records (PACER) is an electronic public access service that allows users to obtain case and docket information from federal appellate, district and bankruptcy courts, and the PACER Case Locator via the Internet. PACER is provided by the federal Judiciary in keeping with its commitment to providing public access to court information via a centralized service.
About Quandis:
Founded in 2003 and headquartered in Foothill Ranch, Calif., Quandis is a default management software provider specializing in Web-based solutions for the lending industry. Quandis' solutions include foreclosure process automation, short sale portals, skip tracing systems, a valuations hub, military search services, bankruptcy status searches, collection solutions, as well custom application development. The company's clients range from lenders to banks, servicers, foreclosure attorneys, outsourced service providers, and agents and brokers. For more information, please visit http://www.quandis.com/ or call (949) 525-9000.
About Adeptive Software:
Based in Boulder, Colo, Adeptive is a technology company that develops products that deliver efficiency, flexibility and scalability for the real estate title industry. Adeptive is known primarily in the title industry for its product ResWare(TM), which is a process flow software package that can be scaled and customized for any size operation. Used by many of the industry's leading companies, ResWare(TM) ensures that transactions are accurate and efficient and that employees are executing the same way every time, reducing missing information, lost productivity, and costly errors. Adeptive is the fastest growing company in the title and escrow software market, thanks to ResWare's continued strong adoption by agents and underwriters across the country. Visit the company's website http://www.adeptivesw.com/ .
Copyright © 2013 CaliforniaNewswire® and Neotrope®. California Newswire is a publication of the Neotrope News Network and a U.S. reg. TM of Neotrope.