Online Ticketing Agency for Poker Seats Offers Extra Prizes Exclusively to Users at Event
ATLANTIC CITY, N.J. — As the first and only online poker tournament seat reservation system, PTseats.com proudly presents the inaugural $90K event to be held at the Trump Taj Mahal in Atlantic City on February 16, 2008. PTseats.com offers avid poker players the opportunity to securely reserve their seats in advance using any major credit card. The convenience of PTseats.com allows players to claim their reserved seat and arrive to the tournament with ease, without the hassle of waiting in line.
Players who register and purchase their poker tournament seats for the February 16 event through PTseats.com will be eligible for the chance to win various sponsor-added prizes, including a professional poker table. The overall winner of the tournament will win a seat at the World Series of Poker Academy at the Caesars Indiana on March 29, 2008, a $1700 value.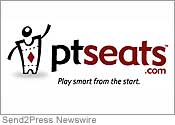 "We want to encourage poker players to visit PTseats.com and see how easy it is to reserve a poker tournament seat online," said the company founder, Fabricio Schaffrath. "Unregistered players at the $90K event will certainly regret missing out on the chance to win these exclusive prizes."
Since the launch of PTseats.com in August of 2007, the website has been flooded with an array of positive feedback and has even been referred to as the "Ticketmaster(R) for poker tournaments."
Tom Gitto, the director of Poker Operations at the Trump Taj Mahal in Atlantic City, is a fond supporter of the service. "PTseats.com has presented a ground-breaking convenience to the world of poker tournament registration," he commented. "It has truly transformed the efficiency of the casino during our poker tournaments."
For additional information: http://www.ptseats.com or contact at 1.888.766.8922.