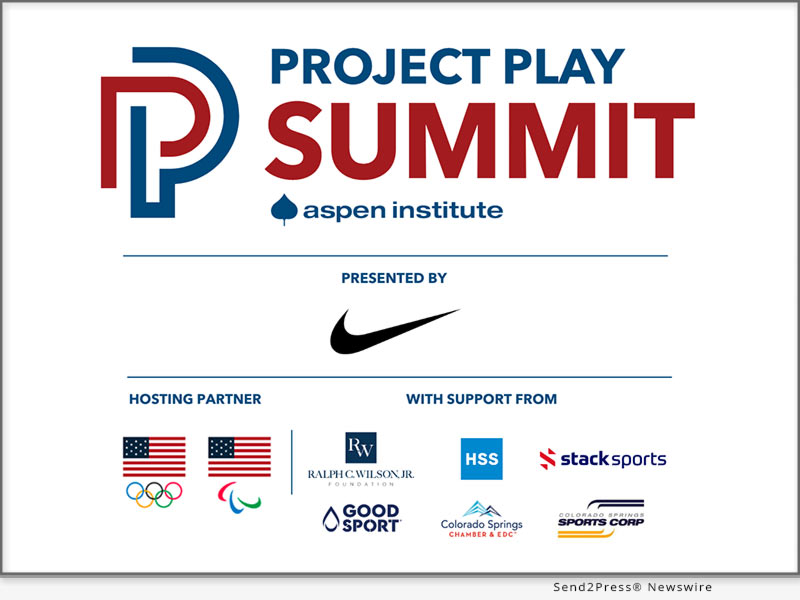 ASPEN, Colo., Mar 28, 2023 (SEND2PRESS NEWSWIRE) — Stack Sports, a leading provider of sports technology and services, is excited to expand its commitment to increasing youth sports participation and transforming the overall sports experience for children across the United States through a new partnership with the Sports & Society Program at the Aspen Institute as the newest member of the Project Play 2024 roundtable.
Project Play, an Aspen Institute initiative launched in 2013, seeks to provide equal access to quality sports opportunities, enhance coaching quality, and promote healthy athletic development for all young people, regardless of their background, skill level, or financial status. In support of this work, the industry-leading organizations of the Project Play 2024 roundtable commit to taking mutually reinforcing actions to grow the quality and quantity of sports activities available to youth, with a special focus on the underserved and children ages 12 and under.
As part of this partnership, Stack Sports will leverage its innovative technology and extensive network to help the Aspen Institute identify and address barriers to youth sports participation. Stack Sports' expertise in grassroots camps, sports registration, management, and performance tracking will be invaluable in creating solutions that make sports more accessible, enjoyable, and rewarding for children of all backgrounds.
Tom Farrey, Executive Director of the Sports & Society Program at the Aspen Institute, expressed his enthusiasm for the partnership: "We're thrilled to have Stack Sports on board with Project Play 2024. Their passion for enhancing the sports experience and commitment to increasing participation aligns perfectly with our mission. By working together, we can create meaningful change and help ensure every child has the opportunity to reap the benefits of sports."
In addition to Stack Sports, Project Play 2024 has attracted the support and collaboration of several prominent companies and organizations dedicated to promoting youth sports and well-being. Partners include Nike, the National Basketball Association (NBA), Augusta Sportswear Brands, the U.S. Soccer Federation, DICK'S Sporting Goods, the U.S. Olympic & Paralympic Committee, and the American College of Sports Medicine.
Jeff Young, CEO of Stack Sports, also shared his enthusiasm for the collaboration: "At Stack Sports, we believe in the power of sports to create lasting positive impacts on young lives. Our partnership with the Aspen Institute and involvement in the Project Play 2024 roundtable are significant steps toward achieving our mission. We're excited to work alongside such a dedicated organization, and together, we're confident we can make a real difference in the lives of children through increased access to quality sports experiences."
With this partnership, Stack Sports reaffirms its dedication to creating a positive sports experience for all children. By joining forces with the Aspen Institute and Project Play, the company hopes to make a lasting impact on the youth sports landscape and ensure a healthier, more inclusive future for the next generation of athletes.
About the Aspen Institute:
The Aspen Institute is a global nonprofit organization committed to realizing a free, just, and equitable society. Founded in 1949, the Institute drives change through dialogue, leadership, and action to help solve the most important challenges facing the United States and the world. Headquartered in Washington, DC, the Institute has a campus in Aspen, Colorado, and an international network of partners. https://www.aspeninstitute.org/
About Project Play:
An initiative of the Sports & Society Program at the Aspen Institute, Project Play develops, applies, and shares knowledge that helps stakeholders build healthy communities through sport. Hundreds of organizations across the U.S. and beyond, from professional leagues to grassroots providers, community foundations to the federal government, have introduced programs or shaped youth strategies based on Project Play's framework to get and keep children active through sports. https://www.aspenprojectplay.org/
About Stack Sports:
With nearly 50 million users in 35 countries, Stack Sports is a global technology leader in SaaS platform offerings for the sports industry. The company provides world-class software and services to support national governing bodies, youth sports associations, leagues, clubs, parents, coaches, and athletes. Some of the largest and most prominent sports organizations including the U.S. Soccer Federation, Little League Baseball and Softball, and Pop Warner Little Scholars rely on Stack Sports technology to run and manage their organizations. Stack Sports is headquartered in Dallas and is leading the industry one team at a time focusing on four key pillars – Grassroots Engagement, Participation Growth, Recruiting Pathways, and Elite Player Development.
To learn more about how Stack Sports is transforming the sports experience, please visit https://stacksports.com/.
News Source: Stack Sports
Related link: https://stacksports.com/
This press release was issued on behalf of the news source, who is solely responsible for its accuracy, by Send2Press Newswire. To view the original story, visit: https://www.send2press.com/wire/project-play-2024-continues-to-gain-momentum-as-stack-sports-partners-with-aspen-institute-to-transform-youth-sports/