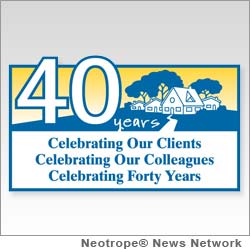 LAKE FOREST, Calif. /California Newswire/ — PCM (Professional Community Management of California, Inc.), celebrates 40 years of service and growth. In 1964, the company began as a non-profit that managed Laguna Woods Village. PCM officially incorporated in 1972 to manage a diverse range of homeowner associations or Common Interest Developments (CIDs) including Huntington Landmark and Sun Lakes Country Club.
The secret to PCM's longevity has been a commitment to developing long-term relationships with its clients by delivering unmatched customer service.
"We are in business because of our clients and our attitude to take care of our clients," said CEO Donny Disbro, who took over the firm from his father, Russ and co-founder Jeff Olsen. "We have been able to grow from a single on-site office to managing 127,000 housing units in more than 300 homeowner associations across Southern California and Southern Nevada, because of the trust they placed on us."
PCM recently renewed its 25-year old relationship with Casta del Sol in Mission Viejo. "Our community management team completed a major renovation of our main pool restrooms and locker rooms and they worked diligently with the city and the contractors to resolve building defect issues and deliver a beautiful product," said Bill Burfeind, president of the association. "They are backed up by the expertise of their corporate headquarters and have the ability to deliver a breadth of services that we appreciate."
Last year, PCM made an unprecedented expansion into Southern Nevada to manage eight new communities. "Pulte Group has worked with PCM for more than 20 years and they effortlessly transition the management of our new communities from us to the home owner associations," said Chris Haines, division president of Southern California and Southern Nevada at The Pulte Group. "Their proactive management style upholds the integrity and desirability of the communities they manage."
PCM not only manages the daily business of homeowner associations, it also sponsors events and charitable endeavors that are important to the individual communities. They are also committed to growing and improving the communities they manage and received numerous awards for green practices and service.
"Professional Community Management of California, Inc. has been a trusted partner to the Aliso Viejo Community Association for almost three decades," said Ross Chun, president of the association. "Our members rely on PCM's experience and expertise, and benefit from their dedication to our association, and participation in all that our community does."
The company is also well known in the industry for supporting the professional development of employees, or family members as Disbro calls them. The average PCM employee is with the company for more than ten years.
"I'm a big believer in employee morale," Disbro added. "When our team members are committed to serving our clients and the greater community, the energy among everyone is unstoppable."
PCM is a dedicated supporter of Orange County United Way, youth sports programs and many philanthropic organizations. Since 1998, PCM employees began organizing an in-house campaign that has raised approximately $450,000 to date for Orange County United Way. The company also contributes to youth sports programs throughout the county, reflecting the value of team work and philanthropy.
In 2010, PCM became an Associa company.
Disbro's primary focus moving forward is to lower costs for clients while increasing service and delivering value-added programs.
"Last year we delivered programs such as Associerge(R) and Associa Advantage to our employees and residents of PCM-managed associations," he said. "Having personally benefitted from both services, I can recommend them with total confidence in that they bring substantial cost savings and benefits to our valued clients."
A 24/7 virtual concierge program, Associerge(R) provides a no-cost service to assist callers and online users with services such as party-planning, dry-cleaning pick-up, travel reservations and arrangements and floral delivery.
About Professional Community Management of California, Inc.:
Professional Community Management of California, Inc. (PCM), an Associa company, specializes in the management of Common Interest Developments of homeowner associations for family oriented master-planned developments, resort-style master-planned communities, active-adult master-planned communities, condominium associations and boutique communities throughout Southern California and Southern Nevada.
With headquarters in Lake Forest, Calif., PCM and its companies employ a staff of more than 1,500 people. PCM has offices in serving all of Southern California and Southern Nevada and is recognized by the Multi Housing Council as one of the county's largest managers of common interest developments. Management services by PCM are backed by state-of-the art Internet technology and comprehensive financial and management systems. For additional information, please contact PCM at 800.369.7260 or at www.pcminternet.com .
About Associa:
Building successful communities for more than 30 years, Associa is North America's largest community association management firm and serves its clients with local knowledge, national resources and comprehensive expertise. Based in Dallas, Associa and its 8,000 employees operate more than 150 branch offices in the United States, Mexico and Canada. To learn more about Associa and its charitable organization, Associa Cares, go to www.associaonline.com and www.associacares.com .

http://youtu.be/Lj7Uyxo-aRc

Copyright © 2012 CaliforniaNewswire® and Neotrope®. California Newswire is a publication of the Neotrope News Network and a U.S. reg. TM of Neotrope.