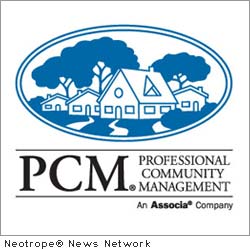 LAKE FOREST, Calif. /California Newswire/ — PCM (Professional Community Management of California, Inc.) announced that the Lake Forest Community Association launched a new "Community Spirit Team." With a $300 starter fund from the Board of Directors, the team will help neighbors with home repairs in order to remain in compliance with the association's rules.
When PCM learned of the team's mission, they stepped in and matched the fund and also offered the expertise of its PCM Field Services professionals. The Community Spirit Team will kick off the program with work on the home of Lake Forest Community Association resident, Patrice Munday, a mother of three and volunteer lost pet coordinator for the residents of the association. Munday fell behind on home maintenance when she lost her job two years ago.
"I have received several bids to fix my rotting beams and unfortunately the bids are way out of my financial means," Munday said. "This opportunity for help means so much to me and my children."
"Patrice and her daughter, Mysty have reunited so many of their neighbors with their lost pets," said Donny Disbro, Chief Executive Officer at PCM. "PCM and her neighbors felt it was our turn to lend a helping hand."
With the economic downturn and many people out of work, homes have fallen into disrepair. To come to the aid of their neighbors, the Lake Forest Community Association formed a Community Spirit Team to raise funds and help homeowners achieve compliance with their rules and regulations. Al Vistaunet, who has regularly helped his neighbors with home repairs, answered the call to volunteer to chair the committee.
"We have a number of cases lined up as determined by our Hearing Committee and as we raise additional funds and gain support from local home repair stores, we will be able to take on more projects," said Vistaunet. "I've always been happy to help my neighbors and it keeps me busy."
Last year, PCM launched the Field Services Division to perform maintenance in the common areas of homeowner associations for family master-planned developments, resort-style and active-adult communities, condominium associations and boutique communities. PCM Field Services performs general handyman services, drywall repairs, painting, stucco repairs, utility door repairs, and much more.
To contact the Lake Forest Community Spirit Team or contribute to the fund, please contact Kim Back, Community Relations Manager at 949-837-6100, or kback@pcminternet.com.
For more information about PCM Field Services and to learn how they can assist a homeowners association, please contact Sue Evans, Director of Management Services at 800 369-7260.
About Professional Community Management of California, Inc.:
Professional Community Management of California, Inc. (PCM), an Associa company, specializes in the management of Common Interest Developments of homeowner associations for family oriented master-planned developments, resort-style master-planned communities, active-adult master-planned communities, condominium associations and boutique communities throughout Southern California and Southern Nevada.
With headquarters in Lake Forest, Calif., PCM and its companies employ a staff of more than 1,500 people. PCM has offices in serving all of Southern California and Southern Nevada and is recognized by the Multi Housing Council as one of the county's largest managers of common interest developments. Management services by PCM are backed by state-of-the art Internet technology and comprehensive financial and management systems. For additional information, please contact PCM at 800.369.7260 or at www.pcminternet.com .
About Associa:
Building successful communities for more than 30 years, Associa is North America's largest community association management firm and serves its clients with local knowledge, national resources and comprehensive expertise. Based in Dallas, Associa and its 8,000 employees operate more than 150 branch offices in the United States, Mexico and Canada. To learn more about Associa and its charitable organization, Associa Cares, go to www.associaonline.com and www.associacares.com.
Copyright © 2012 CaliforniaNewswire® and Neotrope®. California Newswire is a publication of the Neotrope News Network and a U.S. reg. TM of Neotrope.