LOS ANGELES, Calif. /California Newswire/ — President Obama is now in the oval office and the time to begin delivering on campaign promises begins now. That's why BankForeclosuresSale.com, an online foreclosure listing provider, announces they are ready for action. BankForeclosuresSale, along with the rest of the country, is anxious to see what changes will arrive with the new president. During the campaign, the foreclosure crisis was a primary focus and President Obama promised resolve and relief. So, what measures will be taken?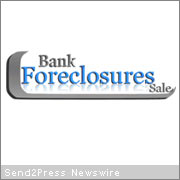 Whatever the immediate action, BankForeclosuresSale, is ready to help. Their web site is up-to-date with current news about the home foreclosure market.
According to a recent Associated Press article, President Obama says that urgent action is needed to address the slumping economy and there's still time to take dramatic action.
Most recently, President Obama's top economic advisor reported that the remaining $700 billion in financial rescue funds will be used to support the credit markets for businesses and families and to help reduce home foreclosures.
"Our goal is to work with all groups – seasoned real estate investors and first-time home buyers," James Foxx, Investment Analyst, for BankForeclosuresSale.com, says.
As a result, BankForeclosuresSale.com has assembled a team of real estate experts who are ready to educate consumers about what to know before purchasing a foreclosure; show them how to steer clear of scams; explain liens; and more.
About BankForeclosuresSale
BankForeclosuresSale has been in business since 2004; they provide practical information and resources to help investors locate foreclosure real estate and buy it for the best discount possible — way below market value. Their service makes it easy to find the best deals available anywhere in the country.
Currently, BankForeclosuresSale has more than one million lists of foreclosures all over the U.S.; new ones are being added daily.
Listings include satellite photos that provide 360-degree horizontal and 290-degree vertical panoramic views; some regions can be viewed at ground level. There are also detailed aerial photos provided from four angles.
BankForeclosuresSale also provides area profiling so people can access information about schools, neighborhoods, climate, demographics and more.
BankForeclosuresSale.com offers 24-hour customer support and an easy-to-use search system. They offer advanced filter options for detailed and specific property searches.
[tags]lists of foreclosures, property searches, Brivin Corp[/tags]