MANASQUAN, N.J. — It may not be fashionable to be seen sporting paper or plastic, but making a statement with ecofashion is in. Americans throw away 100 billion plastic bags a year, recycling less than one percent of them, according to the Worldwatch Institute, an environmental research and advocacy group in Washington. Perfect for Earth Day and beyond, the new Beleaf tote solves the paper or plastic dilemma and makes it easy for earth-savvy shoppers to take a plastic bag out of circulation and promote the reduction of deforestation.
Plus, one percent of all sales are donated to the non-profit organization, 1% For The Planet.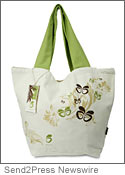 Made with 100 percent organic cotton and imprinted with water-based inks, the oversized tote was designed to promote sustainability. The bag was designed by Beleaf's creative director, Keith Rizzi, who also heads up Rizco Design, an award-winning, green design firm located in Manasquan, New Jersey. Beleaf is earth-friendly fashion that is Stitched with Purpose(TM). "The bag was designed to encourage everyday people to make one simple change that can make a difference," says Keith Rizzi.
"Helping to reduce the number of biodegradable-resistant plastic bags is something we all can do to benefit Earth."
Proceeds from the sale of Beleaf are being donated to the non-profit organization 1% For The Planet. Founded in 2001, 1% For The Planet is an alliance of companies that recognize the true cost of doing business and donate one percent of their sales to environmental organizations worldwide. Beleaf's annual donations are directed to the Consolidated Graphics Division of American Forests(R) which focuses on reducing deforestation caused by the design and printing industry due to increased paper consumption.
The bag features the Beleaf logo, along with a free-flowing design of a butterfly pattern made from repeated Beleaf logos. The butterflies communicate evolution and a sense of change. Additionally, the colors of a butterfly's wings are made to match their surroundings because the environment naturally provides its inhabitants with protection, as well as nourishment and sustainability. That is the premise behind Beleaf: in order to achieve balance, and ensure the planet's future, we must do the same for our environment.
The Beleaf tote retails for $36 and is available at www.beleaf.com. It is the first item launched from the collection. Additional pieces will be introduced by late 2008.
About Beleaf
Launched in 2007, Beleaf is a relaxed, urban clothing collection comprised of high quality organic and recyclable fabrics that combine energetic design and sophisticated detail that embody green learnings, which are shared to show how small changes make a big impact. The first accessory introduced from the collection is the reusable tote. One percent of the sales of Beleaf will be donated to 1% For The Planet.
For more information, visit http://www.beleaf.com.
All trademarks acknowledged.
Send2Press(R) is the originating wire service for this story.
NEWS SOURCE: Beleaf