SACRAMENTO, Calif. /California Newswire/ — Today, the Calif. State Assembly approved SB 270 by Senator Alex Padilla (D-Pacoima), Senator Kevin de Leon (D-Los Angeles) and Senator Ricardo Lara (D-Huntington Park/Long Beach). The bill would phase out single-use plastic bags in California grocery stores, convenience stores, liquor stores and pharmacies. The bill now goes to the State Senate for consideration.
A coalition of environmental, labor, business groups and local governments are supporting SB 270 (Padilla, De Leon, Lara), including Californians Against Waste, Environment California, Heal the Bay, Clean Seas Coalition, California League of Conservation Voters, Coastkeepers, Surfrider, United Food and Commercial Workers (UFCW) Western States Council, California Grocers Association, and the California Retailers Association.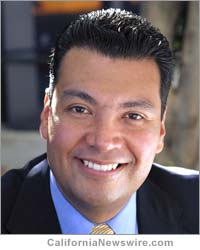 "This is a huge step forward. Single-use plastic bags not only litter our beaches, but also our mountains, our deserts, and our rivers, streams and lakes. SB 270 strikes the right balance. It will protect the environment and it will protect California jobs as the state transitions to reusable bags," said Senator Alex Padilla.
"A throw-away society is not sustainable. With SB 270 we have an opportunity to greatly reduce the flow of billions of single-use plastic bags that are discarded throughout our state. This is good for California and reflects our values as a state that cares about the environment, sea life and wildlife," Padilla added.
Each year more than 14 billion single-use plastic bags are handed out by retailers. According to the US EPA, 88% of plastic bags and sacks are not recycled. In California, only 3% are recycled, according to CalRecycle. Single-use plastic bags increase costs to local governments for clean-up because so few of the bags are recycled. There is also a very real environmental cost to marine life, birds and other wildlife.
Based on the experience of local jurisdictions that have enacted ordinances, a statewide policy would save local governments millions of dollars annually. The combined cost of single-use plastic bags to California consumers and state and local government for use, clean-up and disposal is estimated to be in the tens of millions of dollars annually. Eighty-six local governments throughout the state have adopted plastic bag ban ordinances covering more than 115 cities and counties combined. In doing so, many of these communities have eliminated the significant costs associated with plastic bags, as well as substantially reduced the volume of bags entering their landfills.
"California is known throughout the world for its policies to protect the environment. Many of our cities and counties have enacted local ordinances banning single-use bags. It is time for a statewide policy," said Padilla.
The plastics industry has been fiercely opposed to the legislation. The "progressive bag alliance" has aired over-the-top attack ads seeking to intimidate the legislature.
"The so called, 'progressive bag alliance,' is funded by the plastics industry. These out-of-state special interests are out of touch with California and our values. Californians care about the environment. In cities and counties throughout the state, Californians are speaking out loud and clear in support of the bag ban," said Senator Padilla.
Last year a similar bill by Senator Padilla fell 3 votes short of the 21 votes needed for passage from the State Senate. At the time, Padilla pledged to redouble his efforts and seek passage of a single-use plastic bag ban this year. In January, at a press conference in Los Angeles, Senator Padilla, Senator De Leon and Senator Lara announced the new bill, SB 270 (Padilla, De Leon, Lara), which included language to address concerns regarding potential job losses at California plastic bag manufacturing facilities.
SB 270 will:
• Prohibit, beginning July 1, 2015, grocery stores and pharmacies from making available single-use plastic bags.
If paper bags are offered to customers, they would have to include recycled content.
• Prohibit, beginning July 1, 2016, convenience stores and liquor stores from making available single-use plastic
bags.
• Grandfather in existing local ordinances.
• Provide up to $2 million in competitive loans to businesses transitioning to the manufacture of reusable bags.
Senator Alex Padilla, 41, graduated from MIT with a degree in Mechanical Engineering and just completed serving on the MIT Corporation Board. He is Chair of the Senate Energy, Utilities and Communications Committee and represents the more than 1,100,000 residents of the 20th State Senate District in Los Angeles.

Editorial note: above news is based on release as provided by the office of Mr. Padilla and is believed accurate but not guaranteed.