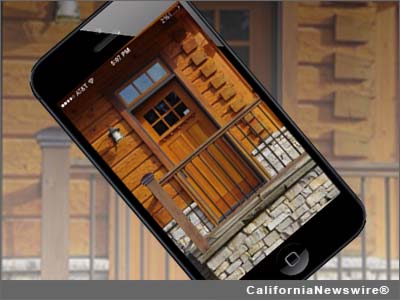 SUNNYVALE, Calif. /California Newswire/ — "When the deep freeze of February is slowing everything down, that is when my business starts to pick up," says John Volkmann, owner of North Twin Builders, based in Wisconsin and Michigan. "With my mobile app I am better able to help those interested in a new home or a remodel in Northern Wisconsin and Upper Michigan find design ideas as they start planning for their summer get away to the Northwoods."
He added, "Now my clients and I can collect design ideas and collaborate using the app, which helps me work better with my clients."
The app features are useful to homeowners, remodelers, and home builders, and includes:
1. A photo search, save and share feature, so homeowners can do the research they need and collaborate with their interior designer to refine their vision-all from their mobile device
2. The interior designer's portfolio, logo and contact information are highlighted in the app to build their brand and customer loyalty.
3. A collaboration feature, where the homeowner can ask questions or make comments about each photo and the interior designer can respond.
"The North Twin Builders app would have saved me so much time," Carol M., a past customer of North Twin Builder says. "Money and paper when we were building our home and I was searching for pictures in books and magazines for the 'look' I was after. NTB not only builds a great home, they help in every step of the process."
The mobile app for builders and remodelers is powered by Planese, a pioneer in collaborative home improvement, whose mission is to help homeowners approach, plan and carry out their home remodel.
"We see that enabling builders and remodelers to use our proprietary technology to better collaborate with their clients is a benefit to everyone," says Dan Fritschen, founder of Planese. "Our mission is to advocate for homeowners and improve the industry's level of customer satisfaction, a crucial step of which is effective collaboration early in the process. Our app, private labeled by Builders like North Twin Builders, is a big part of the solution."
Get the North Twin Builders' Mobile App: https://itunes.apple.com/us/app/north-twin-builders-quality/id784534964?mt=8 .
See the North Twin Builders' App Video: http://www.youtube.com/watch?v=GRNDonsv0FY .
Learn more about North Twin Builders: http://www.northtwinbuilders.com/ .
Learn more about Planese: http://www.planese.com/ .
More about North Twin Builders:
North Twin Builders, LLC, is an ongoing family business that was established in 1971. We are well-known in the Northwoods of Northern Wisconsin and Upper Michigan for building quality custom homes, luxury homes, and economical homes. John Volkmann, Sr., started North Twin Builders as an independent building contractor. Over the past four decades, our business has largely expanded into a diverse staff of skilled and dedicated professionals.
More about Planese:
Powered by proprietary algorithms and enriched by community contribution, Planese provides a personalized, localized, interactive, intelligent, collaborative and intuitive mobile app that delivers real-time information to homeowners. Planese creates a collaborative environment within the home improvement industry, empowering customers with the information they need to make informed decisions.

VIDEO:

Copyright © 2014 CaliforniaNewswire® and Neotrope®. California Newswire is a publication of the Neotrope News Network and a U.S. reg. TM of Neotrope.