NEW YORK, N.Y. — With oil prices spiraling out of control, people are seeking ways to save money while still staying warm this winter. Perfect Climate Control, a smart energy green company, has the answer. On January 2, 2008, oil broke the $100 mark. As of December 31, 2007, home heating oil cost $3.54 per gallon in New York City.
So, what can people do to save money? Perfect Climate Control can prove that the Fujitsu Halcyon heating system is not only super efficient, but will also lower oil bills and heat homes and businesses safely.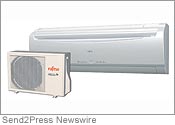 At current oil prices, Fujitsu heating systems cost 20 percent less to operate than an oil-fired boiler which operates at 70 percent efficiency (U.S. Dept. of Energy).
Individual room control and a ductless design also contribute to the Fujitsu efficiency and cost-saving model – up to 50 percent. Why heat the whole floor when heat is only needed in one room? Multi-zone capability, wireless remotes, digital controls, and timers make this easy to do. In addition, according to the U.S. Dept. of Energy, energy loss due to ductwork averages 27 percent.
David Fletcher of Perfect Climate Control shares some success stories:
One client in Arlington, Virginia was able to lower her gas heating bill from $1,100 to $300 a month during one of the coldest winters on record; in Washington, D.C., a customer lowered his gas bill to $5. The utility company actually refunded him money.
"Fujitsus were installed in 350 condominiums outside of Philadelphia," Bill Hick, Northeast Regional Sales Manager for Fujitsu recalled. "When the temperature was 10 degrees and windy, it was toasty inside. In three years, the primary heat source, baseboard heating, had never been turned on."
Fujitsu systems not only heat, they also cool. Year-round comfort is provided by the same super-efficient unit. It can also be a cost-effective solution for heating and cooling areas such as extensions, basements, and attics. Other benefits include humidity control and indoor air quality.
Centrally located in New York City, Perfect Climate Control is operated by licensed refrigeration engineers and teachers. They serve the tri-state area and offer free energy consultations.
For more information, visit: http://www.PerfectClimateControl.com.