SACRAMENTO, Calif. — A certified Pilates Instructor with a passion for fitness and an artful eye for style, Linda Moeller is launching her 2007 Pilates accessories brand, Core Links by Completely Fit For Life. This jewelry line expresses Ms. Moeller's love for beauty and function in twelve distinct pieces and eleven unique pose charms.
Based in Folsom, California, the Core Links jewelry line is designed with fitness and comfort in mind to ensure each piece can be worn during any workout. The debut line consists of bracelets, necklaces, earrings, and anklets; each designed by Ms. Moeller and delicately hand-crafted by artisans in 925 silver or 14k gold.
An expert instructor and practitioner, Ms. Moeller was inspired by favorite Pilates poses from her own practice of the exercise form when designing these wearable representations of Pilates moves. Additionally, by wearing the pieces herself during workouts and seeking feedback from her clients, Ms. Moeller achieves the most wearable forms and designs in her jewelry line.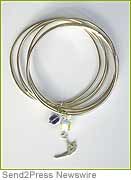 "I'm constantly intrigued by the combination of beauty, grace and power in the practice of Pilates," said Ms. Moeller. "I want to elevate everyone's fitness experience in mind, body, and soul. Core Links is a perfect way for me to reflect my passion for fitness through artful design."
Ms. Moeller is founder and owner of Completely Fit for Life and has over 25 years of experience in the Fitness Industry. A graduate of California State University, Fresno; she is a noted speaker and workshop presenter, has numerous published articles credited to her name, and is mentor to up-and-coming next generation fitness instructors. Ms. Moeller's website www.completelyfit4life.com showcases all her Core Links designs.
Sterling Silver Jewelry
Hand-crafted in 925 silver; pieces are available in two different link style chains with single pose or multiple poses, alone or in combination with Australian crystals or semi-precious stones. The Core Links heart logo is included on bracelets, anklets, and necklaces. Single pose earrings are also available.
14k Gold and Leather Jewelry
Hand-crafted in 14k gold; bracelet available with single pose or multiple (up to 9) poses, anklet available with single pose or multiple (up to 11) poses. Single pose earrings are also available. Each piece is available with a beautiful diamond perfectly placed on each pose. A leather rope necklace showcasing four poses separated by silver sleeves is included in this collection. The Core Links heart logo is included.
About Completely Fit For Life
Completely Fit for Life specializes in fitness training that incorporates all components of health, fitness, and nutrition. Owner, Linda Moeller, is A.C.E. (American Council on Exercise) and PowerHouse Pilates certified.
For more information on the product line, or to order online, visit http://www.completelyfit4life.com or call 916-747-0806.
[tags]Core Links jewelry, Pilates accessories, Linda Moeller, Sacramento news[/tags]