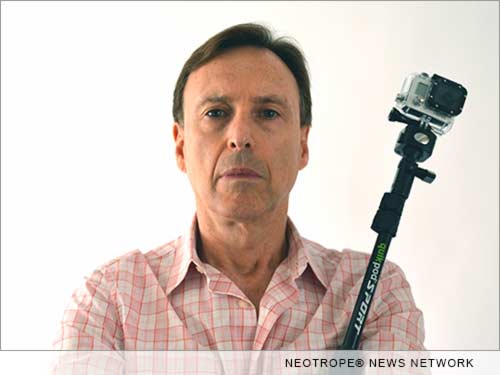 MIAMI, Fla., Dec. 19, 2014 (SEND2PRESS NEWSWIRE) — The inventor of the selfie stick for smartphones and GoPro cameras, Wayne Fromm, is setting the record straight and is furious at all the misreporting of the invention's origin. It was named invention of the year by TIME magazine, as if it was an anonymous invention, and is touted as an Asian invention in other press reports including the New York Post.
The only reporter who has got the story correct is from INC Magazine, http://www.inc.com/oscar-raymundo/original-selfie-stick-inventor.html
Selfie stick inventor Wayne Fromm invented the Quik Pod(R) (US patent #7,684,694), the original selfie stick (www.quikpod.com), more than 10 years ago, and spent years of hard work and testing to achieve this goal. "More than 100 prototypes were created, this was a very time consuming invention," says Fromm.
The inventor aired an infomercial test for it in 2007 but it was too early for the market, the iPhone had not even been launched yet. Fromm sold it on QVC that year with every air date selling out the entire inventory, He says his biggest mistake for this invention was placing it in the Beijing airport gift store during the Beijing 2008 Summer Olympics. Too many foreign factory owners saw it according to Fromm where they counterfeited it.
Fromm is a proud supporter of true inventors and works with groups and the patent office to help vet true ownership of ideas.
For more information on the original selfie stick, visit: http://www.QuikPod.com/ – or follow them on Twitter at: https://twitter.com/quikpod .
Available at B&H, Henrys Photo, Best Buy, Target and Bed, Bath & Beyond.
– Photo for media: Send2Press.com/mediaboom/14-1219-Wayne-Fromm-300dpi.jpg .
– Photo Caption: Quik Pod – the original "Selfie Stick Inventor Wayne Fromm."
Published on CaliforniaNewswire.com Fri, 19 Dec 2014
NEWS SOURCE: Fromm Works, Inc.
This press release was issued on behalf of the news source (who is solely responsible for its accuracy) by Send2Press® Newswire, a service of Neotrope®.