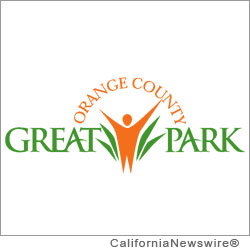 IRVINE, Calif. /California Newswire/ — The Great Park presents The Spoken World, the finale in a series of Palm Court Arts Happenings presented in collaboration with Arts Orange County. The Spoken World features Marc Bamuthi Joseph who tells a story of achieving manhood in the United States through the lens of Hip Hop, global travel and urban environmental health through "choreopoetry," a highly theatrical and mesmerizing blend of spoken word and dance movement.
"Through this successful collaboration, the Great Park and Arts Orange County continue to present exciting and successful Arts Happenings," said Beth Krom, Chair, Orange County Great Park Board Corporation. "Arts Happenings are free and open to the public, and allow visitors unique opportunities to explore different art forms, including painting, dancing, song-writing and theater, while interacting with artists. This is a wonderful finale to an incredible year of memorable events."
Mark Bamuthi Joseph has an extensive performing arts background and currently serves as Director of Performing Arts at San Francisco's Yerba Buena Center for the Arts. He is the artistic director of the 7-part HBO documentary Russell Simmons Presents Brave New Voices. He is also one of twenty-one artists selected for the inaugural class of Doris Duke Artists and is a recipient of a United States Artists Rockefeller Fellowship.
The Spoken World will take place Saturday, June 16 at 6 p.m. to 8 p.m. outside in the Palm Court Arts Complex. Admission and parking are free. For more information, go to www.ocgp.org
About the Great Park:
The Orange County Great Park, with its approximately 1,300-acre master plan, is the focal point of the redevelopment of the publicly-owned portion of the 4,700-acre former Marine Corps Air Station, El Toro. The Great Park features an iconic tethered helium balloon that rises 400 feet in the air, providing an aerial view of Park development. Other features include the Carousel, Farm + Food Lab, Kids Rock Playground, Walkable Timeline, Palm Court Arts Complex, North Lawn recreation area and historic Hangar 244. The South Lawn lighted soccer fields and Community Garden will be added in the next phase of construction.