IRVINE, Calif. /California Newswire/ — 5 Bars Communities, a dba of XG Communities, a premier provider of wireless master plans, asset marketing and engineering services for cities and municipalities across the United States, announced today an agreement to develop a Wireless Marketing Plan for the OC Great Park. Owned by the City of Irvine in California, The Great Park is a 1,300 acre arts and sport recreational hub currently in development to be the first great metropolitan park of the 21st century.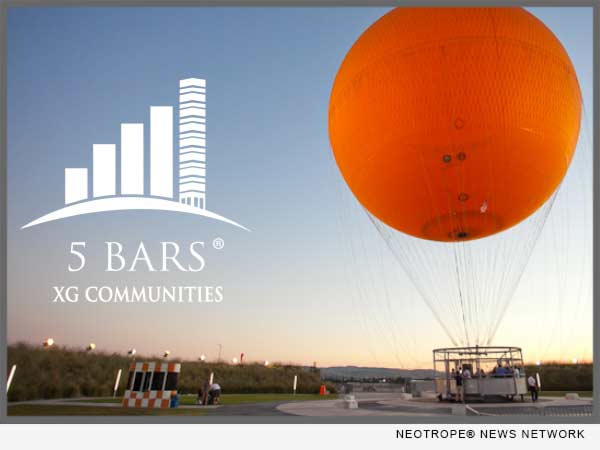 5 Bars Communities has entered into a multi-year agreement with the OC Great Park and will begin marketing the Great Park's assets for small cell and wireless use. This effort will enhance residents and visitors' ability to access high speed wireless connectivity throughout the park.
5 Bars will act as an advocate for the Great Park identifying opportunities for wireless collocation, while minimizing impacts from wireless facility siting decisions. The decision for the OC Great Park to partner with 5 Bars was based on maintaining control, preventing visual blight and increasing connectivity for businesses, residents and citizens. The solution will be the basis to deploy Smart City infrastructure, enhance business investment, and improve the overall Great Park experience.
Realizing the dream of the Orange County Great Park has required partners to work hand-in-hand to create a public benefit that will be a source of pride and enjoyment for generations of residents. Upon completion, the Orange County Great park will join America's inventory of national treasures and set a new standard for great metropolitan parks around the world.
About 5 Bars Communities:
5 Bars Communities, a dba of XG Communities, is headquartered in Irvine, California. A premier provider of small cell wireless marketing plans, engineering services and comprehensive wireless strategies for cities and municipalities. More information: http://xgcommunities.com/.
About OC Great Park:
The Orange County Great Park is a public park located in Irvine, California with a focus on sports, agriculture, and the arts. A portion of the former Marine Corps Air Station El Toro is being transformed into the first great metropolitan park of the 21st century. Connected to Great Park Neighborhoods by a network of trails, it will span approximately 1,300 acres. More information: http://www.cityofirvine.org/orange-county-great-park.