NEW YORK, N.Y. — CheapOair Wins Hitwise U.S. Top 10 Award for the quarter ending July – September 2008. During this period, CheapOair ranked No. 10 based on market share of visits among all U.S. websites in the Hitwise Travel Agencies industry. The Hitwise U.S. Top 10 Awards Program celebrates the most successful U.S. websites in 160+ online industries. As Hitwise reports on the anonymous online usage and search behavior of more than 10 million U.S. Internet users-the largest online sample of its kind-this unique awards program recognizes excellence in online performance through public popularity.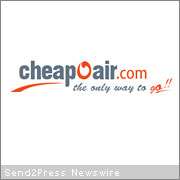 CheapOair.com is a NYC based consumer travel web site offering low airfares and discount hotels to its 3 Million plus customer base. The CEO of CheapOair.com, Mr. Jain, said, "The success of our website's popularity is a result of our commitment to our customers, and our ongoing technological improvements that enhance the customer experience."
CheapOair.com is the brainchild of a group of travel industry professionals. Their vision has always been to infuse emerging technology into affordable travel solutions for the most budget conscious minds. Their motto is: "We Discount the Fares, never the Service!" CheapOair's portfolio of airfare products includes over 18 million exclusive airfares, and 85,000 cheap hotels worldwide, and the technological foundation to deliver the cheapest plane tickets and hotel rates online, all over the globe.
Hitwise is the leading online competitive intelligence service. Since 1997, Hitwise has pioneered a unique, network-based approach to Internet measurement. Through relationships with ISPs around the world, Hitwise's patented methodology anonymously captures the online usage, search and conversion behavior of 25 million Internet users.
This unprecedented volume of Internet usage data is seamlessly integrated into an easy to use, web-based service, designed to help marketers better plan, implement and report on a range of online marketing programs.