NEW YORK, N.Y. — A new web site, Cruising From New York (www.CruisingFromNewYork.com), providing all the information travelers need to plan a cruise from the three New York area ports, Manhattan, Brooklyn and Cape Liberty (Bayonne), N.J. was launched today by Anne Campbell, a veteran cruise industry journalist.
The web site is a "single click resource", allowing cruisers to easily find information on the three ports, including directions, parking and suggested routes. The user-friendly format also features reviews of all ships sailing in and out of New York, year-round itineraries, message boards and cruise discounts. Those planning a pre- or post-cruise stay in New York will find information on hotels, sightseeing, nightlife and shopping in "The Best of New York" chosen by Campbell, who has lived in the city for several decades.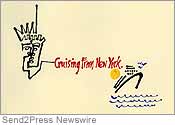 According to Anne Campbell, "In 2006, over one million passengers came through the City's cruise facilities. Since 9/11, the port of New York has undergone such massive growth in the number of ships and passengers that new port facilities were added in Brooklyn and Bayonne, N.J. And, four of the largest cruise lines have ships sailing year-round on voyages ranging from one-day party cruises to a full circumnavigation of the globe. Air travel has become so unreliable that people will drive up to ten hours to sail from New York rather than fly to Florida."
Since finding the best ship and itinerary can be daunting with the large number of vessels sailing in and out of the city, www.CruisingFromNewYork.com provides ship reviews and itineraries arranged by destination such as the Caribbean, New England and trans-Atlantic. A monthly calendar of 2008 and 2009 itineraries makes narrowing down the selection process simpler by clicking on a ship name to go directly to the vessel's review.
Campbell notes that New York City is second only to Orlando in visitor traffic. The "Best of New York" provides information helpful for adding a few days either before or after the cruise. An intrepid bargain hunter, Campbell gives insider's advice on getting the best price in hotels, theater tickets, dining and shopping plus "101 Very Cool Things To Do" in New York.
CruisingFromNewYork is owned by ShipCritic, LLC, which also owns ShipCritic Blog (www.shipcriticblog.com). Advertising, Marketing and Technical Operations are managed by CruiseJungle Holdings, Inc. which operates several other cruise related web sites.