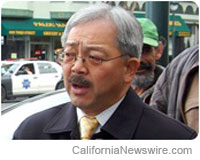 SAN FRANCISO, Calif. /California Newswire/ — S.F. Mayor Edwin M. Lee today launched the San Francisco is "Where the World Changes Campaign" with a six minute video celebrating the San Francisco-based companies and innovators and promoting San Francisco as the ideal place for doing business for potential companies and entrepreneurs and for workforce and investment.
"It is important that we celebrate and publicize the people and companies that make San Francisco the Innovation Capital of the World," said Mayor Lee. "These great San Franciscans and their companies are continuing San Francisco's history of changing the world. From our immigrants who built the railways, to the hippie culture that spawned a generation of social change to the products and ideas these innovation companies are currently growing, San Francisco is and will continue to be the place to come to create the next thing."
The campaign kicks off with today's six minute short film and two 60 second commercials highlighting some of San Francisco's innovative companies and entrepreneurs.
The cast of the film includes:
• Ron Conway, Chairman, sf.citi
• Craig Dalton, Co-Founder, DODOcase
• Jack Dorsey, Founder/CEO, Square
• Art Gensler, CEO/Founder, Gensler
• Heather Hiles, Founder/CEO, Pathbrite
• Lynn Jurich, Co-CEO, Sunrun
• Regis B. Kelly, Ph.D., Director, California Institute for Quantitative Biosciences (QB3)
• David Lee, Founder/Managing Partner, SV Angel
• Laura Weidman Powers, Founding Executive Director, Code2040
• Kevin Yeaman, CEO, Dolby.
"Cities, states and even countries round the world are competing to be centers of innovation but thankfully, largely because of Mayor Lee's enthusiastic support, San Francisco is in the lead," said QB3 Director Dr. Regis Kelly. "In his Where the World Changes campaign, the Mayor is encouraging innovators in diverse fields ranging from social media, to biotechnology, to design, to see themselves as members of a single, creative San Francisco based, community. I feel honored to participate."
"San Francisco brings innovation, entrepreneurship, collaboration and vision together in a way that I have not experienced anywhere else," said Sunrun co-CEO Lynn Jurich. "Where the World Changes highlights this unique environment, a setting that has helped Sunrun thrive."
Distribution of the videos will include the running of the thirty second spots in local taxi cabs and on SFGTV, as well as distribution through our partners in local and international trade offices. This coincides with the launch of www.wheretheworldchanges.com, a website inviting people to learn more about moving or starting their businesses in San Francisco.
About the Where the World Changes Campaign:
The Where the World Changes Campaign is a partnership between the Office of Economic and Workforce Development, San Francisco Center for Economic Development and San Francisco Travel designed to promote San Francisco as an ideal location to start and grow a business. With financial contributions from Alexandria Real Estate Equities and in kind services from Automattic/Modern Legend/Vreeland Productions, this campaign serves to capture a collective understanding of what makes San Francisco such an incredible place to start and grow a business, to hold a conference, to shoot a film, to live and play, to raise a family and to just enjoy a visit.