INDIANA, Pa. — Gorell Windows & Doors has introduced an all-new line of hurricane windows that is especially designed to protect homeowners and their homes from airborne debris during hurricane-strength storms and other forms of violent weather. The new series, called Armor Max Plus(TM), is made in the U.S. and includes a double-hung model with tilt-in sash, a two-lite lift-out slider and a picture window.
All three models have passed ASTM Large Missile Impact testing to 140 miles-per-hour (Level "D") and boast Texas Department of Insurance approval, which allows them to be installed anywhere needing hurricane protection, right up to the coastline. These products are now available from Gorell window dealers throughout the Gulf region. Another significant aspect of this product is Gorell's ability to provide consistent two-week delivery on hurricane products year round.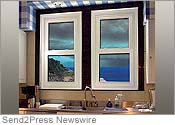 Gorell Armor Max Plus Windows provide "continuous" hurricane protection. Unlike storm shutters, they require no work or preparation as violent weather approaches. They need only to be closed and locked. Unlike hurricane shutters or windows boarded with plywood, they also allow in natural daylight, which makes it easier and safer for homeowners to live normally or prepare for evacuation during power outages.
The ability to have hurricane windows in just a few weeks means that homeowners can still replace windows during hurricane season. All-new Armor Max Plus Windows provide numerous additional benefits, such as cost-saving energy efficiency, protection against intrusion, noise reduction and significant UV blocking.
Armor Max Plus windows incorporate three panes of glass, two of which sandwich a nearly impenetrable PVB interlayer. The glass is deeply embedded into the sash, significantly increasing the windows' structural integrity. Rigid tubular master frames-with 13 separate insulating chambers and heavy-duty double-cam sweep locks-provide tremendous strength and durability. Armor Max Plus Windows also include Gorell's SolarControl(TM) Plus Low-E coating and argon gas fill for exceptional thermal performance that yields energy cost savings.
With Armor Max Plus Windows, beauty isn't sacrificed for storm protection, security, and energy efficiency and sound deadening. Made of exceptionally smooth premium-grade soft-white vinyl, these windows feature a distinctive profile accentuated by dual millwork lines. Homeowners can further "customize" them by selecting from a number of design options.
Gorell, national winner of the prestigious ENERGY STAR(R) Partner of the Year Award from 2004 to 2007 and the "Sustained Excellence" Award winner the past two years, manufactures premium windows for replacement and new-construction applications, patio doors, aluminum storm windows and doors, and a complete line of sunrooms and conservatories. The company markets its products through a network of specialty dealers and distributors. Acknowledged as one of the most innovative and fastest growing manufacturers of windows and doors in North America, Gorell is consistently recognized for its high product quality and excellent customer service.
More information: http://www.gorell.com