SAN FRANCISCO, Calif. — Wetpixel LLC announces the arrival of a new quarterly print magazine devoted to high-quality underwater photography. Wetpixel Quarterly brings fans of the underwater realm spectacular imagery in a landscape-oriented, high-resolution format. As well as celebrating the beauty of the deep, Wetpixel Quarterly provides a forum for a necessary dialog on marine conservation among photographers, researchers, conservationists, and the general public.
To help foster this community, the magazine accepts and encourages contributions from professional and amateur photographers alike. Wetpixel.com is the most respected online destination for all things related to underwater imaging; Wetpixel Quarterly presents an exciting new venue for showcasing the work of this community in print.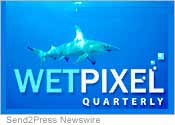 The magazine's founders, Eric Cheng and Elijah Woolery – both avid divers and underwater photographers – hope to foster environmental stewardship by highlighting conservation concerns in Wetpixel Quarterly's theme-based issues.
"By drawing attention to the links between the beauty of the underwater world and the action required to sustain these environments," says Woolery, "we're hoping to increase interest in preserving threatened areas around the globe-and to help protect those areas that are still pristine."
Through interviews, articles, open contests, and, most importantly, the lenses of its contributors, Wetpixel Quarterly brings to the page a new sense of the fragility and splendor of underwater life.
About Wetpixel Quarterly:
Wetpixel Quarterly was founded in 2007 by Eric Cheng and Elijah Woolery to create a high-quality quarterly showcase of the best in underwater imagery in conjunction with news and information about marine research and conservation. Wetpixel Quarterly is printed in landscape orientation using 50% recycled materials.
For more information, visit http://www.wetpixelquarterly.com/
[tags]Wetpixel Quarterly, Eric Cheng and Elijah Woolery, divers and underwater photographers, California marine conservation[/tags]