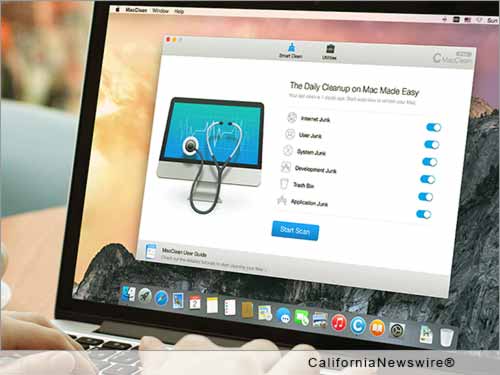 SAN FRANCISCO, Calif. /California Newswire/ — iMobie Inc. announces MacClean 2. Getting ready for OS X El Capitan, this new Mac Cleaner app gives users the best ever free cleaning and maintenance solution for their Mac computers and laptops. Taking the usability and integration as the main footing in the market, MacClean 2 collects 9 essential tuning utilities that are inspired by the leading features in the top-ranked Mac tools.
With MacClean 2, OS X users could do daily housekeeping on Macs as per their need, such as clearing a variety of application / system / Internet browser junk, wiping out unwanted old / large / duplicated / language files, thoroughly uninstall applications and extensions, etc. As a result, users are able to reclaim more free storage space as well as boost up the Mac performance on a daily basis.
Download page: http://www.imobie.com/macclean/download.htm .
"Maintaining a Mac is usually overlooked due to the excellent performance of the OS X. However, as part of the most useful equipment in an individual's daily activities, your Mac definitely needs an efficient cleaning tool," says Frank Kong, the founder and CEO at iMobie Inc. "So through a six month endeavor of designing and development, we upgraded MacClean by adding the Smart Clean and nine handy maintenance utilities, which we believe are the most complete Mac optimization solutions so far."
What Is Smart Clean?
Smart Clean in MacClean aims at helping users clean out a variety of space-hogging junk with extreme easiness, such as Internet junk, user junk, system junk, Trash bin junk, development junk, etc. Taking a Mac's safety as the first priority, it knows exactly what are safe to clean and how to clean them without causing potential troubles.
All Mac OS Cleaning and Maintaining Utilities Include:
0ld & large Files Finder – Search for large/old files and sort them with multiple filters to let users easily remove the unwanted ones.
Duplicates Finder – Find out all identical files or folders on Mac and offer an option to get rid of the duplicate ones.
Secure File Eraser – Erase any unwanted files/folders at 3 security levels, making sure the sensitive data are securely removed.
iPhoto Clean – List and delete unneeded hidden copies of images generated when iPhoto auto rotated photos.
Language File Clean – Many apps are packed with multiple languages, and now users can remove the ones they'll never use.
Binary Junk Remover – Remove all unnecessary binaries to reduce the size and boost performance of apps.
App Uninstaller – Completely uninstall any unwanted apps from Mac, without any associated files or traces left.
Extension Manager – View all installed extensions, plug-ins and add-ons; keep the necessary ones and disable/remove the rest.
Trash Sweeper – Empty Trash bin at 3 security levels, ensuring the confidential files are securely deleted.
About iMobie Inc.:
iMobie Inc. was established at the end of 2011, and located in Tianfu Software Park (China), a place gathering great many talented software engineers. The brand name iMobie is from "I'M Optimistic, Brave, Independent & Efficient," which represents the main characters of their teammates. For more information, please visit http://www.imobie.com/ .
TWITTER: @iMobie_Inc #MacClean
Mac(R) is a trademark of Apple, Inc. All other trademarks acknowledged.
For questions or comments regarding the above news announcement, contact the company/organization(s) mentioned in the text, and not this website.
Copyright © 2015 CaliforniaNewswire® and Neotrope®. California Newswire is a publication of the Neotrope News Network and a U.S. reg. TM of Neotrope.