BEVERLY HILLS, Calif. — Lock the doors, turn off the lights and settle in for High Integrity Productions' recently released DVD – Resurrection Mary – a legendary ghost story that dates back to the 1930s. Distributed by Entertainment Studios, while the legend is not new, the way the story is told is; Resurrection Mary walks again! Director Sean Michael Beyer says, "Although it seems to have been marketed as a horror film, which is disappointing to hard-core horror fans, from day one, we set out to make a solid, romantic thriller that didn't need to rely on splattered blood and guts to make it an exciting and entertaining film."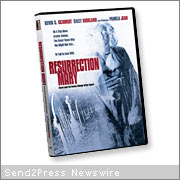 So, who is Resurrection Mary? She is a ghost who haunts Archer Avenue, located in a Chicago suburb; she is killed by a car on the side of the road and then later buried in Resurrection Cemetery.
Ghost hunters, historians, and folklorists, for decades, have been drawn to this ghostly legend due to the impressive number of documented and credible eyewitness sightings.
One eyewitness experienced a personal encounter. At a dance one evening, a local Chicagoan met a young woman. Later, while driving her home, she asked to be dropped at the Resurrection Cemetery. When asked "Why?" the young woman responded, "Where I'm going, you can't follow."
The producers of the television show, Unsolved Mysteries, were so intrigued by this story that they produced a segment on Resurrection Mary in the 1990s.
In the DVD, one of the main characters, Jeff Pryce, played by Kevin Schmidt, almost runs down a beautiful girl. He offers her a ride; the story begins.
One by one, Jeff's friends are murdered and life begins to spin out of control. He becomes the prime murder suspect and Mary's grandmother is the only one who can help. Will it be in time?
This psychological thriller bridges the gap between life and death while seeking truth. The DVD is 91 minutes with a star-studded cast that includes: Richard Riehle and Sally Kirkland. Pamela Jean, a newcomer to the screen, plays Mary; her future looks bright.
Currently, the DVD is available at Wal-Mart; Amazon.com; and Netflix.
To view the trailer, visit: http://www.ResurrectionMaryTheMovie.com.
[tags]High Integrity Productions, Resurrection Mary DVD, Director Sean Michael Beyer[/tags]