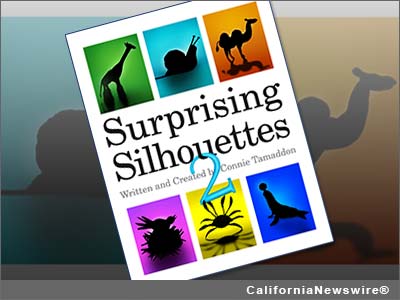 SAN FRANCISCO, Calif. /California Newswire/ — Connie Tamaddon, author of "Surprising Silhouettes" (ISBN: 978-0977801831) today announced release of "Surprising Silhouettes 2" for Apple iPad. Tamaddon, a respected photographer, has a repeat performance with her unique use of light properties and shadows to create a clever read-out-loud guessing game that illustrates that not everything is as it first seems.
Using unusual materials to fashion seemingly familiar shapes, Tamaddon creates an imaginative way to entertain and enlighten readers young and old, and provides a playful yet serious opportunity for parents and children to discuss the dangers of pre-judging objects and people.
"I was motivated to create a second book when I became aware of the positive response from young readers, parents and educators. Being able to read 'Surprising Silhouettes 2' on the iPad becomes an interactive experience, bringing the silhouettes and objects to life," says Tamaddon.
As the result of Tamaddon's dedication to inspiring creativity in children and helping individuals whose voices are not always heard, she is donating all profits from "Surprising Silhouettes 2" to College Track, a nonprofit organization dedicated to helping underprivileged students obtain a college degree.
About College Track:
College Track is a national education nonprofit that empowers students from underserved communities to reach their dreams of a college degree. College Track's mission is to close the achievement gap and create college-going cultures for students who are historically and currently under-represented in higher education.
They actively engage students over the course of eight years, from the summer before high school through college graduation. Their students join with limitless aspirations and College Track provides them with a comprehensive program and encouraging learning environment that empowers them to succeed.
In the 2013/2014 academic year, College Track will serve over 1,600 high school and college students across our 6 sites in East Palo Alto, Oakland, San Francisco, Los Angeles, New Orleans and Colorado. Over the past 16 years, more than 90 percent of their high school seniors have been admitted to four-year universities, and their students have graduated college at 2.5 times the national average for low-income students (19.5 percent). Over 85 percent of their students will be the first person in their family to earn a college degree.
About the Author:
For more than 13 years, Connie Tamaddon has worked in photography and video production. She was the founder of iDESIGN, a children's photography business, and her work has been displayed in galleries and schools. Published in various newspapers, Tamaddon has also filmed and edited fundraising videos for various nonprofit foundations, including the Global Fund for Women, One Hen and Pets in Need. She lives in San Francisco with her husband and has two grown children.
Advance Praise for Surprising Silhouettes 2:
"Surprising Silhouettes 2 is a visually arresting book that not only delights with bright colors and interesting visuals, but also educates and inspires imagination. This book, with its everyday objects transformed into beloved animals, captures the whimsy of childhood perfectly. By showing children that they can transform yarn, paint brushes, sunglasses and so much more into anything they can imagine, Surprising Silhouettes 2 shows our kids just how many possibilities there are in the world. At Free The Children, our goal is to build a future where every child is free to transform her life, her community and her world. It is refreshing to find a book that shares this same goal, and we are happy to have found such a book in Surprising Silhouettes 2," said Scott Baker, Executive Director – Free The Children.
"Surprising Silhouettes provides a unique experience for all children, parents and professionals alike. As a clinician working with children with autism, I found that the book peaked interest through its creativity, novelty and colorful imaging. The pictures and surprises found within each page create opportunities for imagination and discussion on how to think in new ways. As with many situations, it is easy to jump to the easiest, most obvious assumption. However, used as a teaching guide, this book provides an opportunity to develop a love for thinking and imagining. Surprising Silhouettes offers delightful entertainment to the leisurely reader, offers opportunities for dialogue and discussion to the parent, and offers teaching opportunities to the professional working with children. It is a brilliant example of imagination captured in print. This is a must-read for children and an important addition to the classroom," said Kathy Matthews, Ph.D., Director of the Faison Centers of Excellence, affiliated with the Department of Behavioral Psychology at the Kennedy Krieger Institute and the Applied Behavior Analysis Program at Teachers College Columbia University.
For more information visit: http://www.surprisingsilhouettes.com/ .
Copyright © 2013 CaliforniaNewswire® and Neotrope®. California Newswire is a publication of the Neotrope News Network and a U.S. reg. TM of Neotrope.