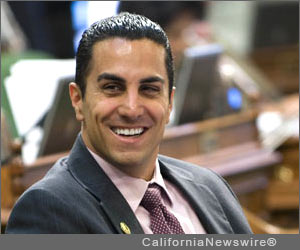 SACRAMENTO, Calif. /California Newswire/ — Californians across the state will benefit from new laws authored by Assemblyman Mike Gatto (D-Los Angeles) that will take effect on January 1, 2014. Among the new laws, California Motorists and small-business owners will receive some parking relief in January.
A bill by Assemblyman Mike Gatto will allow motorists to park in spaces controlled by a broken meter for the maximum time allowed by the meter. The bill, AB 61, guarantees that parking spots remain available to the motorists, shop owners, and small businesses that rely on them, even when the meter is not working properly.
"Taxpayers already pay for street maintenance, meter installation, and meter upkeep," said Gatto. "Local governments should take responsibility and keep parking meters in good working order, not squeeze a double-penalty out of cash-strapped citizens."
Simultaneously, motorists who flee the scene of an accident will find it more difficult to "run out the clock" once Assemblyman Gatto's AB 184 takes effect. The legislation provides an additional tool to law-enforcement officers investigating hit-and-run offenses by extending the statute of limitations on hit-and-run incidents that result in death or serious bodily injury.
"AB 184 will allow victims of hit-and-runs and law enforcement to obtain justice from cowards who do everything possible to avoid responsibility for their actions," said Gatto. "Thousands of hit-and-run victims suffer life-threatening injuries annually. Allowing the perpetrators to avoid prosecution just adds insult to these injuries."
Environmentalists and local governments will also have new tools available to them this year once Assemblyman Gatto's AB 440 takes effect. AB 440 transfers certain powers to cities, counties, and other local-government entities to clean-up toxic contamination, and provides protection for individuals, organizations, and lenders who work to clean-up contaminated properties.
"Rehabilitation of communities is good for our neighborhoods and good for the environment," said Gatto. "By extending greater authority to local governments, we can clean and recycle contaminated property, bring jobs and housing to where people need it most, and help bring our cities into the 21st century."
Another expanded tool for local governments also has animal lovers celebrating and dog tails wagging. AB 265 will help communities afford and create dog parks by shielding cities and counties from liability they face when operating dog parks and protects them from litigants who claim, for example, that they were unaware of the potential dangers of such parks.
"Dog parks help build safer and stronger communities by providing a public space for neighbors to interact while training and socializing their dogs," said Assemblyman Gatto. "We should not allow liability concerns to be a major barrier to creating these valuable spaces, especially in small- and medium-sized cities that cannot afford to self-insure."
Mike Gatto is the Chairman of the Appropriations Committee in the California State Assembly. He represents Burbank, Glendale, La Cañada Flintridge, La Crescenta, Montrose, and the Los Angeles neighborhoods of Atwater Village, East Hollywood, Franklin Hills, Hollywood Hills, Los Feliz, and Silver Lake. www.asm.ca.gov/gatto