LOS ANGELES, Calif. /California Newswire/ — Author Rex Weiner will debut "The (Original) Adventures of Ford Fairlane" (ISBN: 978-1945572807) his gritty tales featuring private eye Ford Fairlane, the music industry's "rock n roll detective," at Noir At The Bar on June 10 at 7 p.m. The event brings together crime fiction fans with crime fiction authors reading from their work at the Mandrake Bar, 2692 La Cienega Blvd, Los Angeles, CA 90034.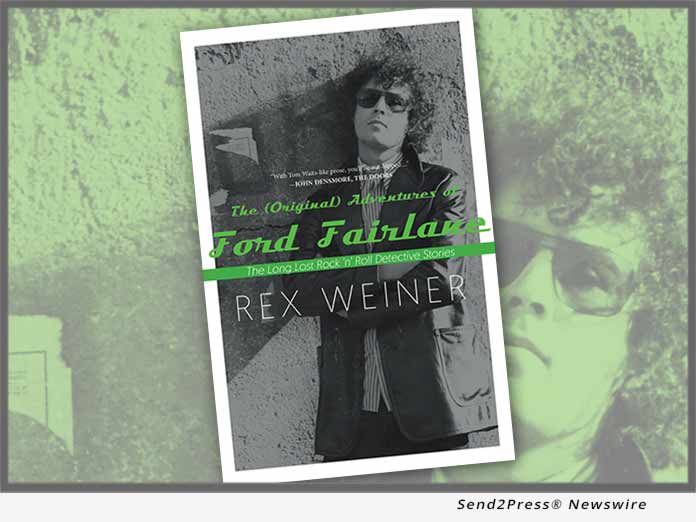 The Ford Fairlane stories, unavailable in print since first publication in 1979-1980 as serialized weekly episodes in the New York Rocker and the LA Weekly, will be officially released July 18 by Rare Bird Books. The stories inspired the movie, "The Adventures of Ford Fairlane," directed by Renny Harlin and starring Andrew Dice Clay, released in 1990 by 20th Century Fox.
Written by journalist and screenwriter Rex Weiner, the stories capture the punk rock/new wave scenes in New York City and Los Angeles in the 1970's.
"With Tom Waits-like prose, you'll be out hipped," says John Densmore of The Doors.
"The resurrected Ford Fairlane stories are a breezy, joyously perverse, laugh-out loud pleasure: part Chandler, part Phil K Dick – and all Rex Weiner," says Bruce Wagner, author of "Dead Stars and I Met Someone."
The book is for sale on Amazon at: https://www.amazon.com/dp/1945572809/.
Noir At The Bar is hosted by authors S.W. Lauden ("Hang Time") and Eric Beetner ("The Devil Doesn't Want Me"). In addition to Rex Weiner, guests include authors Jo Perry, Nikki Dolson, Phoef Sutton, Thomas Perry, Joan Renner, Lida Sederis, and Lisa Brackmann.
Rare Bird Books, based in in Los Angeles, is the independent publisher of approximately fifty books each year in multiple formats, including print, e-book, audiobook, and limited edition, with distribution through Publishers Group West.
Rex Weiner's articles have appeared in Vanity Fair, The Paris Review, The New Yorker, LA Weekly, and Capital & Main. He was a staff reporter at Variety and is one of the founding editors of High Times Magazine and co-author of The Woodstock Census (Viking), one of the key texts analyzing the impact of the Sixties Generation on American society. As one of the first writers brought on board to launch the TV series "Miami Vice," Weiner wrote the now classic 9th episode, "Glades." He is a co-founder of the Todos Santos Writers Workshop.
Learn more about Rare Bird Books at: https://rarebirdbooks.com/.
News Source: Rex Weiner