SAN MATEO, Calif. — The power of exercise is the key theme of "The Body-Mind-Soul Solution" (ISBN: 1933648546), a new book by author Bob Livingstone. Earlier this year Newsweek profiled several studies that have shown that exercise can make you smarter by its ability to cause older nerve cells to form dense, interconnected webs that make the brain run faster and more efficiently.
There are also other clues that physical activity can stave off the beginnings of Alzheimer's disease, ADHD and other cognitive disorders.
A new study by The International Journal of Neuropsychopharmacology has found that exercise not only decreases depression, but also stimulates the growth of new brain cells. Other research indicates that exercise increases self-confidence and self-esteem, lowers anxiety and can bring about a state of calmness. Dr. Steven Keteyian, program director of preventive cardiology at the Henry Ford Heart & Vascular Institute in Detroit states that after only 15 minutes of intense exercise, increased endorphin levels are found. Increased endorphin levels lead to a state of well being.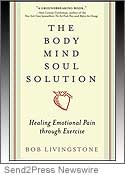 Helping bring the practicality of this research into the daily lives of people is the basis for the book, The Body-Mind-Soul Solution: Healing Emotional Pain through Exercise (Pegasus September 2007, ISBN-10: 1933648546). Author and therapist Bob Livingstone states, "Emotional pain can be defined, faced and worked through while you are exercising. The endorphins kick in and the brain chemistry changes. You feel stronger, more confident and calmer. This allows you to deal with your emotional pain in ways that couldn't be done while sedentary because this process would be too frightening while not working out."
Livingstone suggests a three-step process for tapping into the power of exercise for helping heal emotional pain: 1. Formulate a question to ask yourself about your emotional pain before you begin your work out. 2. Ask yourself this question while you are exercising. 3. Write your thoughts and feelings down immediately after your work out. As an option, he suggests incorporate listening to music as you exercise as a means for bringing up feelings and memories which may be more suppressed in your subconscious.
There are case studies throughout the book that demonstrate the Body Mind Soul Solution's healing power. The book also teaches the reader how to define and clarify emotional pain issues.
"The Body-Mind-Soul Solution" is available everywhere.
About Bob Livingstone
Bob Livingstone, LCSW, has been a psychotherapist in private practice for almost twenty years. He works with adults, teenagers and children who have experienced traumas such as family violence, neglect and divorce. He is the author of the critically acclaimed Redemption of the Shattered: A Teenager's Healing Journey through Sandtray Therapy and The Body-Mind-Soul Solution: Healing Emotional Pain through Exercise.
His articles have been featured on Selfgrowth.com, Ediets.com, Healthynewsdigest.com, DrLaura.com Psychotherapy.net and The Therapist Magazine.
More information: http://www.boblivingstone.com
[tags]author Bob Livingstone, The Body-Mind-Soul Solution, exercise can make you smarter, San Mateo news, new book[/tags]