NEW CITY, N.Y. — A newly published book, "Yoga in the Classroom" (ISBN: 978-0-9817955-0-8), authored by Gail Bentley Walsh, CEO of Yoga Mountain, Inc. is a step-by-step manual for school teachers, K-12. Yoga practice helps to improve mental and physical well being on many levels. This new book, "Yoga in the Classroom," is designed to help students focus, relax and prepare for exams. Yoga creates a calm environment for learning and is a natural step in working to improve test scores.
"Yoga in the Classroom" provides teachers with the necessary tools to explore the benefits of yoga with their students. It does not matter whether the teacher has studied yoga or not; the book is written to encourage exploration in the classroom.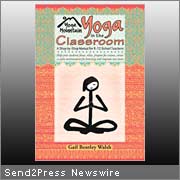 A core part of the manual consists of 30 everyday lessons. They are designed to be easily incorporated into practical learning environments. Exercises may be done beside the desk or seated around a table. Each lesson comes with a description, fun illustration, interesting anecdote, breath and meditation direction, and information about anatomy and physiology.
A section of the book is also devoted to students with physical and mental challenges.
"Yoga is an ancient practice, and we are all beginners at heart," Walsh says. "Yoga is one of those things in life that is a never-ending study. No one ever graduates, but everyone benefits."
About the Author
Gail Bentley Walsh has been teaching yoga in public, private and special education schools for 18 years. She is an expert when it comes to K-12 education involving the science of yoga.
A former Peace Corps Volunteer, Walsh is the founder and co-director of Yoga Mountain Inc., www.yogamountain.com. She started teaching yoga to school teachers in 1998, offering training and workshops for K-12 educators including teachers, teaching assistants, healthcare workers, social workers, psychologists, clinicians and school administrators.
Walsh is also an advisor to the national non-profit organization to bring yoga into the classroom. She is an Experienced Registered Yoga Teacher (ERYT) with the National Yoga Alliance and her Yoga Mountain Yoga Teacher Certification programs have been ongoing since 1995.
To order the book, visit: http://www.yogaintheclassroom.net.