Video Highlights Major Cities Have Already Passed Strong Short-Term Rental Bills, While L.A. Still Lacks An Ordinance
LOS ANGELES, Calif. /California Newswire/ — It's Time, Los Angeles, a coalition of local community, housing, labor, equality and hospitality groups, launched a video ad today calling on the Los Angeles City Council to put city residents first and enact the proposed home sharing ordinance that the city council voted unanimously to approve last May.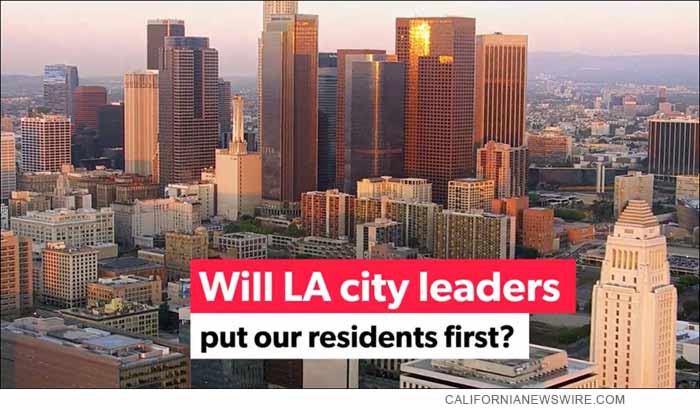 The video also showcases that other major cities, including New York, Boston, San Francisco and Washington, D.C., have already passed stronger short-term rental ordinances to protect housing, while Los Angeles has lagged behind. Recent research data from Airbnb's website, estimates that the ordinance passed by the Los Angeles City Council last May would return more than 11,000 homes to the city's permanent housing stock and reduce mounting pressure on rent prices.
The coalition is comprised of several local groups, including Keep Neighborhoods First, Unite Here Local 11, Strategic Actions for a Just Economy (SAJE), Los Angeles Alliance for a New Economy (LAANE) and California Hotel & Lodging Association (CHLA), as well as other local housing advocates and community leaders who have seen their neighborhoods torn apart by short-term rentals.
Judy Goldman, with a group called Keep Neighborhoods First, said city residents in neighborhoods across the city will continue to feel the negative impacts of short-term rentals until the proposed legislation is finally enacted.
"Short-term rentals are ruining the community fabric of Los Angeles' neighborhoods, while also depleting the city's permanent housing stock," said Goldman. "The LA City Council needs to finalize the law they passed in May to protect affordable housing because every month of delay means 200 more homes are taken off the market for short-term rentals."
"The issue of short-term rentals has been debated for years by city leaders and now it's time to act to safeguard our city's affordable housing," said Cynthia Strathmann PhD, Executive Director of SAJE. "Commercial investors are buying homes and landlords are evicting families to convert to short-term rentals. With Los Angeles facing a housing crisis and growing homeless population, the trend of commercial Airbnb investors taking homes away from permanent residents has got to end."
"Leaders from major cities across the country such as Washington, D.C., San Francisco, New York and Boston have enacted reasonable short-term rental laws to protect affordable housing and neighborhoods from the negative impacts of short-term rentals," stated Charlie Carnow with Unite Here! Local 11. "The key message of our campaign is that it's time for Los Angeles to act and follow the lead of other major cities and pass legislation to hold these short-term rental sites accountable."
To watch the video on YouTube, please visit https://www.youtube.com/watch?v=fFaKQs3oDfk&feature=youtu.be
For more information, please visit www.itstimela.com
###
MEDIA CONTACT ONLY
Eric Sutton
press@itstimela.com
// Editorial Note: the above press release was provided by the news source and/or agency noted and was not created by CaliforniaNewswire.com – information is believed accurate but not guaranteed.