HOLLYWOOD, Calif. /California Newswire/ — The winners are in! Chop Shop's Alexandra Patsavas, Live Nation's Creighton Burke and Universal Music & Video Distribution's Jim Urie won by a landslide in the 2009 Best of the Biz List from NARIP (National Association of Record Industry Professionals), which recognizes excellence and high professional standards in our business. NARIP's list identifies top-level executive talent and know-how in major areas of the record and music industries.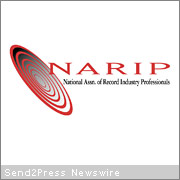 This year NARIP's poll generated nearly five times as many votes as last year. Several individuals stand out because they won by such wide margins in their respective categories and deserve additional applause for this: Alexandra Patsavas, Best Music Supervisor; Creighton Burke, Best Concert Promoter Executive; Jim Urie, Best Traditional Record Distribution Executive; Josh Rabinowitz, Top Music-Ad Agency Executive; Rick Rubin, Best Music Producer.
NARIP congratulates all the nominees and winners. A toast to excellence!
About NARIP
The National Association of Record Industry Professionals (NARIP) promotes education, career advancement and good will among record executives. With an emphasis on becoming better informed and more effective executives, NARIP offers professional development opportunities, educational programs and seminars, the opportunity to meet and interact with peers, a job bank, a member resume database for employers, a mentor network, a newsletter and other services.
NARIP was created specifically for – and is restricted to – record industry professionals. To qualify for membership, you must work at a major or independent label, record distributor, record marketing or personal management firm. Lawyers, publicists and consultants whose main client base is the record business are also welcome.
For a complete list of winners, visit:
http://www.narip.com/index.php?option=com_content&task=view&id=614&Itemid=1
Send2Press(R) is the originating wire service for this story, Copr. 2009.
[tags]NARIP best biz awards, recording industry professionals, Tess Taylor[/tags]