SACRAMENTO, Calif. /California Newswire/ — With overwhelming bipartisan support, the California State Assembly on Wednesday passed Assembly Bill 777 authored by Assemblymember Al Muratsuchi (D-Torrance), Chair of the Select Committee on Aerospace. Under AB 777, rocket ships built by private space exploration companies, such as Space X, would be classified as business inventory and hence, exempt from property taxes.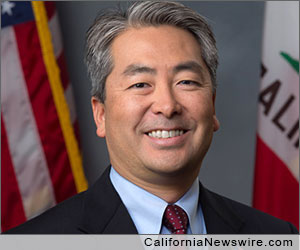 AB 777 passed the Assembly by a 68 to 5 vote, with support from Democrats and Republicans.
"Private Space Exploration is one of the most exciting new industries in the State of California," stated Assemblymember Muratsuchi. "In the past, space flight was in the exclusive domain of NASA and the federal government. However, now that private companies like Space X and Virgin Galactic are building space rocket ships, there are new tax issues being raised. I introduced this bill to clarify the tax code as it relates to this new industry so that companies like Space X can have the legal certainty they need to make major infrastructure investment decisions and avoid unnecessary litigation. With this bill, California can incubate and grow this exciting new industry and create thousands of good paying manufacturing jobs right here in our state."
AB 777 is supported by major aerospace companies like Space X and Northrop Grumman, as well as by the Los Angeles County Economic Development Corporation, Los Angeles Area Chamber of Commerce, and the South Bay Association of Chambers of Commerce.
Today's vote on the Assembly floor paves the way for AB 777 to move on to the Senate for further consideration.
Assemblymember Muratsuchi represents the 66th Assembly District, which includes the cities of Gardena, Hermosa Beach, Lomita, the Los Angeles communities of Harbor City and Harbor Gateway, Manhattan Beach, Palos Verdes Estates, Rancho Palos Verdes, Redondo Beach, Rolling Hills, Rolling Hills Estates, Torrance and the unincorporated communities of El Camino Village and West Carson.
Please visit the Assemblymember's website, http://asmdc.org/members/a66/ for more information.