SAN DIEGO, Calif. /California Newswire/ — Mortgage Capital Trading, Inc. (MCT), a leading mortgage hedge advisory and secondary marketing software firm, announced the release of new online functionality that automates the process of product selection and delivery of loan commitments directly to Fannie Mae for MCT's lender clients. The new solution, which was developed as part of MCT's ongoing technology collaboration with Fannie Mae, is called Rapid Commit(TM) and resides within MCT's award-winning secondary marketing platform, MCTlive!(TM).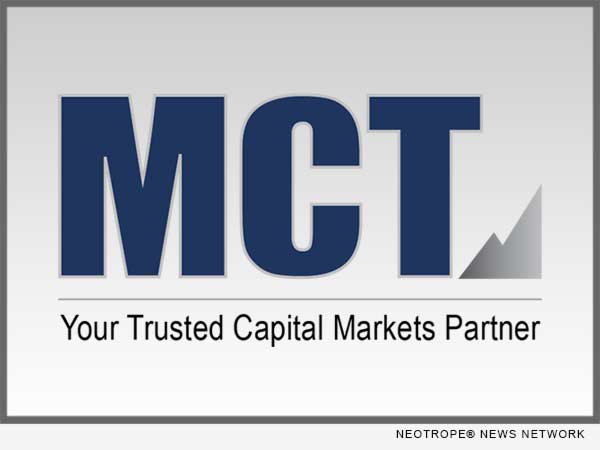 Fannie Mae's Pricing & Execution – Whole Loan(R) (PE – Whole Loan) application is the industry-leading whole loan committing platform, providing ease of use, flexibility and certainty for sellers. Rapid Commit functionality retrieves pricing directly into MCTlive!, which in turn speeds up the committing process, ensures data integrity, and optimizes best execution for all commitments.
"We developed Rapid Commit to make our customers' entire loan commitment process with Fannie Mae more efficient, providing automated, highly accurate best execution analysis that is instant and robust," stated Phil Rasori, COO of MCT. "Working within MCTlive!, users leverage Rapid Commit to run initial best execution and determine that the loan meets Fannie Mae selling guidelines, followed by product-specific best execution that intelligently analyzes the optimal subset sizes and products to deliver as individual commitments."
Last year MCT announced an exciting new integration with Fannie Mae's technology that delivered real-time pricing from MCTlive! for the benefit of mutual lender clients. Rapid Commit further strengthens MCT's collaboration with Fannie Mae and advances the integration of their complementary technologies.
Mr. Rasori added, "Rapid Commit enables a Fannie Mae specific best execution within MCT's overall robust best execution process via a bi-directional exchange of real-time data that is completely automated between MCTlive! and Fannie's Pricing & Execution – Whole Loan(R) web-based application. Previously, this analysis was a manual, laborious process but it is now completely automated – all with the simple click of a button. We look forward to working closely with Fannie Mae on business and technology initiatives."
About MCT:
Founded in 2001, Mortgage Capital Trading, Inc. (MCT) has grown from a boutique mortgage pipeline hedging firm into the industry's leading provider of fully-integrated capital markets services and technology. MCT offers an array of best-in-class services and software covering mortgage pipeline hedging, best execution loan sales, outsourced lock desk solutions, MSR portfolio valuations, business intelligence analytics, mark to market services, and an award-winning comprehensive capital markets software platform called MCTlive! MCT supports independent mortgage bankers, depositories, credit unions, warehouse lenders, and correspondent investors of all sizes.
Headquartered in San Diego, California, MCT also has offices in Philadelphia, Santa Rosa, Los Angeles and Dallas. MCT is well known for its team of capital markets experts and senior traders who continue to provide the boutique-style hands-on engagement clients love. For more information, visit https://mct-trading.com/ or call (619) 543-5111.