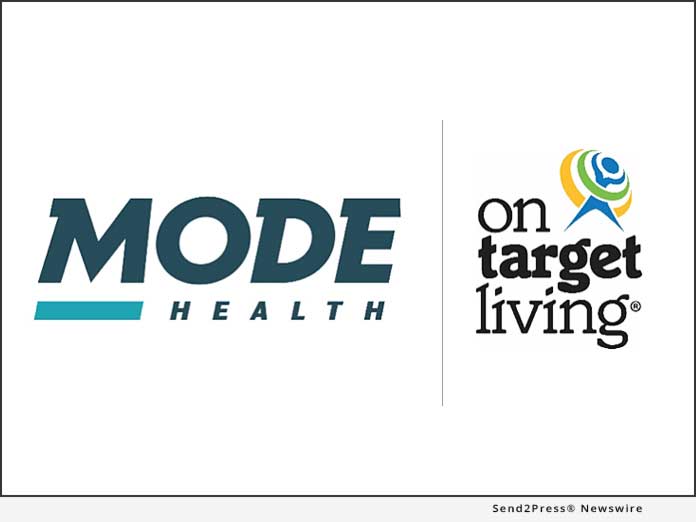 EAST LANSING, Mich., Sep 26, 2019 (SEND2PRESS NEWSWIRE) — Mode Health, the employee benefits agency for modern small businesses, today announced a strategic partnership with On Target Living, a health and performance company located in East Lansing, Michigan. Through this partnership, small business will now have the opportunity to utilize the Mode Health platform with On Target Living's engaging health expertise, content and resources, including nutrition guidance and fitness challenges along with recovery and stress management strategies.
In today's competitive talent market, employers are struggling to find solutions that provide the high-value benefits necessary to recruit and retain top talent. According to a recent SHRM study, the vast majority (86%) of HR professionals said they had difficulty recruiting suitable candidates in the past year, and 20% indicated that their organizations' health-related benefits have become more generous in the past year as recruiting strategy. Together, Mode Health and On Target Living address this issue and movement by bringing health literacy to the forefront of employee benefits.
"This partnership brings the advanced skills and content of the On Target Living approach to Mode Health clients," said Eric Hannah, chief catalyst of Mode Health. "Small businesses have often had limited access to advanced health resources. Together, we are fulfilling this demand. I've long respected and followed the On Target Living principles, and am excited to bring their energy and expertise to Mode Health's small business clients."
Both Mode Health and On Target Living are devoted to preventing and holistically managing health-related issues through health literacy to optimize employee benefits plans. The partnership will align the two businesses' expertise to bring a new benefits model to business leaders, which will allow them to take charge of their healthcare and employee benefits costs.
"There's great synergy between On Target Living and Mode Health," said Matt Johnson, president of On Target Living. "We both desire to improve the health of employees. Taking an approach that supports these employees, both physically and mentally, promotes an individualized experience. This is where the employee benefits model, as a whole, is headed."
About Mode Health
Mode Health provides agile employee benefits for the modern small business. Mode Health's mission is to inspire a culture shift in how individuals think about health literacy, health insurance and holistic well-being. Mode Health puts health first by focusing on prevention and precondition management, which in turn manages benefit spend for employers and help employees perform at their best every day. Learn more at https://mymodehealth.com/, or by calling 517-899-3404.
About On Target Living
On Target Living is not a diet or a short-term fix; it is a lifestyle for building a healthy mind and body. On Target Living specializes in working with companies to help expand human capacity. With demands and competition increasing, employers have to invest in their No. 1 asset (people), by investing in their No. 1 asset (health). On Target Living's seminars, retreats, books, products and content are centered on their Small Steps to Healthy Living approach-this allows people to create a sustainable plan that works. Learn more at https://ontargetliving.com/, or by calling 517-325-1140.
Media Contact
Eric Hannah
Mode Health
517-899-3404
contact@mymodehealth.com
News Source: Mode Health
Related link: https://mymodehealth.com/
This press release was issued on behalf of the news source, who is solely responsible for its accuracy, by Send2Press Newswire. To view the original story, visit: https://www.send2press.com/wire/mode-health-and-on-target-living-announce-strategic-partnership-to-expand-health-resources-and-benefits-for-small-businesses/