List being unveiled during National Military Appreciation Month
LOS ANGELES, Calif. /California Newswire/ — Leading military media and entertainment brand We Are The Mighty (WATM), unveils its fourth annual Mighty 25: Influencers Supporting the Military Community in 2018, twenty-five individuals who are bringing awareness to America's military service members, veterans, and their families.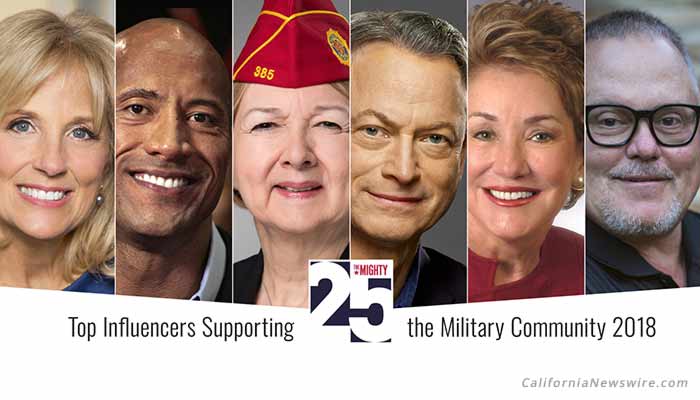 By offering solutions to the many challenges our veterans face, the Mighty 25 are paving the way in many areas including health and wellness, transition, education, employment, governance, human rights, innovation, entrepreneurism, diversity, media, technology, entertainment, and beyond.
We Are The Mighty salutes these inspiring advocates. Here is a link to: #Mighty25.
"We Are The Mighty's mission is to tell the stories of the military community and promote their many accomplishments," said David Gale, Co-Founder and CEO of We Are The Mighty. "We hope that by highlighting the stories and contributions of the Mighty 25 honorees, we will inspire more Americans to become actively involved with the military community and to support those who serve us every day."
#Mighty25 brings our military-veteran community to the forefront by spotlighting those who are impacting this large and important demographic in meaningful ways. WATM scanned America's landscape to find people who have successfully applied their personal and professional expertise to strengthen the lives of our service members and their families.
This year's #Mighty25 was expanded to include not just veterans, prior service members, and reservists, but also civilians who are doing exceptional work for this community.
Honorees have dedicated their lives to missions that vary greatly: from life transition to mentoring service members and their spouses into successful entrepreneurs, helping veterans heal through stand-up comedy training, to employment programs and empowering national brands to give back with each sale. Each member of 2018's #Mighty25 has a story to tell.
For interviews with honorees or David Gale, email carol.levey@wearethemighty.com. Please share these stories during National Military Appreciation month using #Mighty25.
About We Are The Mighty:
We Are The Mighty is the leading military entertainment brand and content studio for a large and loyal community of 114 million strong. Our team of veterans and media professionals create and market military inspired content for broad audiences that informs, inspires, and entertains. We have unique and unprecedented access to all branches of the military and everything we do involves veterans. In addition, our military insight and expertise serve partners and clients who want to create a positive impact on this important demographic while strengthening the relationship between the military, veterans, and civilians.
Image Caption: From (L-R) We Are The Mighty's 2018 honorees included (L-R): Dr. Jill Biden, Dwayne "The Rock" Johnson, Denise Rohan, Gary Sinise, Senator Elizabeth Dole and Bob Parsons
###
Editorial note: content based on press release as provided by "We Are The Mighty." Content was not created by CaliforniaNewswire.com