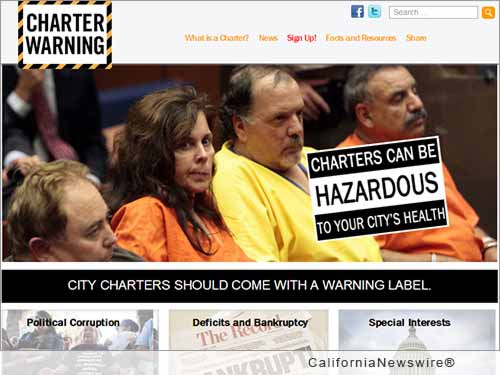 As More California Cities Consider Putting Charges Up for a Vote, Website Details the Risks and Costs Such Changes Could Impose on Taxpayers
SAN DIEGO, Calif. /California Newswire/ — Today, the Middle Class Taxpayers Association launched a new website – www.charterwarning.com – aimed at providing a reliable source for information on potential dangers that can be hidden in some city charters like the ones being considered this year in as many as five cities across California.
"From our founding, our goal has been to advocate for policies that promote a fairer tax code and good government for the benefit of middle class families. Because we have witnessed the financial and political disasters that have occurred in cities like Bell, San Bernardino and so many others as a result of chartering, we created the website www.charterwarning.com so that the public can learn more about what these proposals could mean to the future of their communities," said Dr. Murtaza Baxamusa, a board member of the Middle Class Taxpayers Association.
Baxamusa continued, "In Bell, only 400 of 40,000 people voted in the election when their charter was passed. Since then, multiple city officials have been convicted of crimes that were made much easier to commit because their charter had few protections for taxpayers – allowing politicians and city officials to raise their pay to hundreds of thousands of dollars a year and leaving the public with the tab."
Chuck Lowery, former Oceanside City Councilmember added, "The city of La Mirada rejected the idea of going charter after finding very few benefits to their taxpaying citizens. In Oceanside, we weren't so lucky. Our elected officials promoted a lobbyist-crafted charter with little public input which resulted in big problems for the city and higher costs for taxpayers."
Charterwarning.com went live today. It includes information on what chartering means and the costs and consequences these proposals have brought to taxpayers in other small and mid-sized California communities. The website is one component of a multimedia campaign including direct mail, as well as online and social media promotion.
Baxamusa concluded, "If we can help tell the whole story about what some charters can lead to, we believe we can help protect taxpayers from the corruption scandals, financial difficulties and other problems that have plagued other charter cities."
The Middle Class Taxpayers Association is a nonprofit advocacy organization founded on the principal that a growing and prosperous middle class is the key to California's future.
BACKGROUND ON CITY CHARTERS
There are two basic ways that cities are organized in California. The most common way that cities are governed is through "General Law" – a set of provisions laid out in the California constitution that establish standards for local governance. A minority of California cities have voted to enact "charters" which grant local politicians substantial additional powers. These can include the power to raise their own pay, increase taxes/fees, give away taxpayer funds with no strings attached or run deficits. Charter cities often face more litigation because of conflicts with state law.
Of California's 482 cities, 121 have enacted charters that eliminate General Law in the operation of their city.
The voters of Costa Mesa, Escondido, Grover Beach and Auburn all rejected charter proposals in 2012. However, three of these cities – Escondido, Grover Beach and Costa Mesa – are considering charter proposals again this year. In addition, the cities of Wasco and Arroyo Grande, are actively considering chartering, with drafts moving through their official processes.
In the past, Charters have opened the door to an array of problems:
* The corruption that plagued the City of Bell was a result of a faulty charter on which only about 400 of the 40,000 people in the city even voted. By exploiting loopholes in this charter, city officials were able to raise their pay to hundreds of thousands of dollars, which nearly bankrupted the city. Several officials are currently serving prison sentences as a result of their crimes.
* San Bernardino – a charter city facing crippling debt – declared bankruptcy in 2012 after years of reckless spending habits. News reports indicate that budget numbers were falsified in 13 out of 16 years leading up to the crisis.
* In Vernon – a city of only 112 people, and with more city employees than residents – corrupt officials used their city charter loopholes to feather their own nests. A recent report details how one corrupt official served simultaneously as the city administrator, city clerk, city treasurer and finance director. With no oversight, spending spiraled out of control. Even after the graft ended, this official is still seeking to keep his $551,000 a year pension from being reduced to $115,000.
* In the wake of scandals like those in Bell and Vernon, the LA Civil Grand Jury completed a study of the financial health of Charter Cities. In short, they found that only 5 of 22 cities studies had balanced budgets. The study also found that Charter Cities were more likely to make risky decisions that endangered the city's financial future.
* In Charter Cities, politicians can keep discretionary accounts which amount to slush funds stockpiled with tax dollars that they can then personally direct to projects and activities of their choosing, often with very little oversight and disclosure. The Sacramento Bee recently editorialized on this issue, saying, "When feathering your own nest, best to keep quiet about it."
* In a recent report known as "The Illusion of Autonomy," the prestigious law firm Olson, Hagel & Fishburn found that charters provide no better protection for local tax dollars than General Law cities. In fact, the city council in Emeryville recently discussed the idea of going charter for the sole purpose of gaining more flexibility to propose tax hikes on the people. Given the lower bar to raise taxes, it is not surprising that some taxes are as much as 15 times higher than in General Law cities.
Contact: Dr. Murtaza Baxamusa, murtaza@middleclasstaxpayers.org, 619-358-3805
News content above is based on press release submitted by the news source, Middle Class Taxpayers Association, who is solely responsible for accuracy of content.