Industry Veteran Joins Emerging Leader in Infrared Night Vision Imaging Technology
WAKEFIELD, Mass. — NoblePeak Vision (www.noblepeak.com) announced today that Mike Decelle has joined the company as President and Chief Executive Officer. Decelle takes the reins from co-founder Cliff King, bringing 25 years of experience to NoblePeak with demonstrated leadership capabilities and success in both startup and large public companies. King moves into the Chief Operating Officer role to focus on new product development and manufacturing as NoblePeak rapidly approaches market introduction of its revolutionary night vision TriWave(R) camera cores in 2008.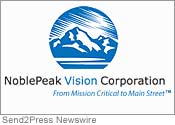 "The initial build of our TriWave(R) technology evaluation cameras has sold out." said Cliff King cofounder and COO of NoblePeak. "It is critical that we now capitalize on this momentum by successfully introducing new products and bringing our VGA based camera cores to production in 2008. The addition of Mike strengthens our team, accelerating our early success and relationships with our major security camera and military OEM lead customers."
Decelle brings a strong track record in both technology and product development which began at Bell Laboratories. He has extensive sales and business development experience in established large companies such as Lucent Technologies where his responsibilities included managing major accounts and lines of business worth more than $2B. Over the last six years Decelle has served as President and CEO for several optical technology start up companies and recently led the successful sale of Apogee Photonics to CyOptics.
"The reaction to NoblePeak's TriWave(R) technology by leading camera OEM's and Systems Integrators has been tremendous, representing broad and diverse customer demand for a cost efficient solution for night vision," said Ken Boyda, former President and CEO of GE Security, Inc. and NoblePeak board member. "Mike's knowledge of optical technologies and experience at both large and startup company leadership make him the perfect fit, joining the company at a high growth commercialization stage of development, rapidly transitioning from an early stage venture to a scaled operating business."
"I am thrilled to be joining NoblePeak at such an exciting and critical phase of the company's development," said Mike Decelle, NoblePeak's new President and CEO. "NoblePeak's TriWave(R) technology has the potential to revolutionize the market for night vision imaging, rendering costly legacy approaches obsolete. I'm looking forward to taking NoblePeak into the next phase of its development."
About NoblePeak Vision
NoblePeak Vision, recent winners of the 2007 Global Security Challenge for the world's most promising security technology start up company, develops visible to SWIR video surveillance camera cores and components with breakthrough night vision performance and costs. At the heart of these components is TriWave(R), a revolutionary germanium-enhanced monolithic CMOS image sensor technology. NoblePeak's unique integrated approach is manufactured in a standard silicon process line, yielding never before achieved reliability and economics. Founded in 2002, NoblePeak is a private company funded by Matrix Partners and North Bridge Venture Partners.