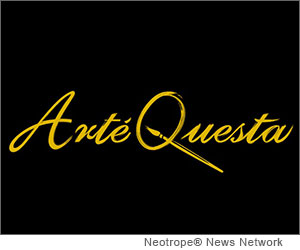 MILL VALLEY, Calif. /California Newswire/ — ArteQuesta Collectors Drs. Holly and Mark Monroe will loan a portion of their collection for display in ArteQuesta's private museum, Rayah Levy and Jessica Jacobson, co-founders of ArteQuesta, announced today.
The museum is under construction in Silicon Valley, California, and will feature a variety of artists in a sculpture garden including M.L. Snowden and Yaacov Agam, with additional artists to be announced.
The Monroe's have built their investment-grade art portfolio with ArteQuesta co-founder Rayah Levy for nearly a decade.
"Rayah has been a trusted resource for us for many years," said Mark Monroe, a radiologist with Columbia Radiology in Columbia, Missouri. "Art is the most unique of investments as it brings beauty into our home that we enjoy daily. Rayah has continued to help us make selections that increase in value so that when it is time to move a piece along, we can do so with confidence."
The Monroes' love and appreciation of art was nurtured from early on through being surrounded by a family that collected Native American art and pottery. He started his own collection with his wife, Holly, through the acquisition of a full collection from Jose Cisneros, Cisneros 2000: Faces of the Borderlands. Their desire to collect continued, and they now own 18 M.L. Snowden sculptures.
"The soulful quality and energy of the sculptures we have acquired speak to us in a way that no other art does," said Mark. "Exposure to art is certainly essential to the well being of humanity."
Mark's wife, Holly Monroe, a pediatrician with the University of Missouri, leads the child and sexual abuse teams at the Rainbow House Child Advocacy Center in Columbia, Missouri. As a key advocate of abused children, she is on a humanitarian mission. ArteQuesta shares her passion for helping others.
"We support the humanitarian efforts of our clients whenever possible through heART return, ArteQuesta's division that donates a portion of the company's profits to organizations that share in our mission of actively supporting humanitarian efforts," said Jessica Jacobson, co-founder of ArteQuesta.
ArteQuesta offers its clients the opportunity to create art history by helping them select works that are investment quality and participate in developing the careers of artists. Additionally, the company builds and curates these collections, monitors the value of each investment portfolio, and showcases works on behalf of its investors and collectors in its private museum's rotating collections. This service allows them to make room for new collections by listing their art for exhibition or sale.
"Rayah has been instrumental in recommending pieces that are important works to art history, well crafted and matter financially," said Mark. "She identifies pieces that are representative of the artist, and helps curate and display these pieces in our home."
Through their partnership with ArteQuesta, the Monroe family is also giving back to the art world by exhibiting works from their private collection that would not be available for the public to view otherwise.
"Mark and Holly are true patrons of the arts," said Rayah. "They have not only followed the careers of the artists they support, but they have been instrumental in building the careers of these artists, and sharing their works with the world."
Since 2007, Rayah Levy has informed investment firms, fund managers, banks and private collectors on how to purchase and maintain investment-grade collections. Her lecture series and newsletter, "Art As An Investment," keeps clients informed on the latest developments, sales, valuations and opportunities in the art market. She also produces a monthly newsletter, "Insight Art Review," which has created a worldwide community of subscribers.
ArteQuesta has developed Art Portfolio Management, a unique software program that tracks the provenance and history of artworks to integrate and support management of overall financial portfolios, bringing art collections in as overall hard assets and helping clients utilize their fine art as an asset class.
ArteQuesta employs a prosocial commerce business model that brings together the fine arts and the investment world to benefit humanity while producing positive financial returns for clients of different economic backgrounds.
About ArteQuesta:
ArteQuesta provides services to individual and corporate fine art collectors to build and manage art collections that deliver both short and long-term financial growth. It is recognized as a leading advisor in building investment-quality art collections for private and corporate clients including major banks and investment firms. Launched in 2011, its founders Rayah Levy, art market and investment expert and curator, and Jessica Jacobson, education advocate and humanitarian, bring together the fine arts and the investment world, promote preeminent 21st century artists, and cultivate self-development as an artistic expression of humankind.
For more information, please visit www.artequesta.com or follow us on Facebook at https://www.facebook.com/pages/ArteQuesta .
Copyright © 2012 CaliforniaNewswire® and Neotrope®. California Newswire is a publication of the Neotrope News Network and a U.S. reg. TM of Neotrope.