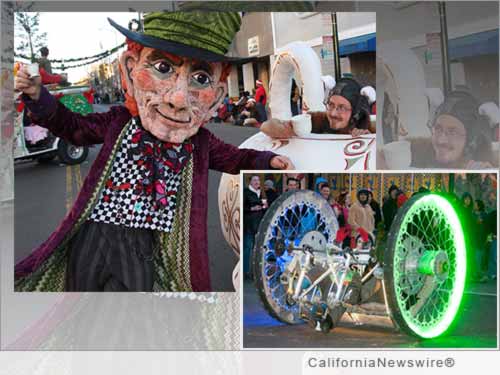 VALLEJO, Calif. /California Newswire/ — A different kind of Christmas! The City of Vallejo, California celebrates the Mad Hatter Holiday Festival throughout the city combining a parade, tree lighting, festival, boat parade, museum exhibit, grand homes tour, city hall exhibit and free bus service to and from the festival throughout the city!
Saturday, December 6, 2014 – in Vallejo, Calif. – Downtown Historic District (Wonderland Hotline: 844-344-8793):
– Wonderland Festival Activities begins at 2 p.m. in Unity Plaza, downtown Vallejo.
– Mad Hatter Parade starts at 4:30 p.m. (Georgia and Sonoma Blvd.)
– Tree Lighting Ceremony at 6 p.m.
– Lighted Boat Parade at 6:30 p.m.
– Mad Hatter Costume Ball at 7:30 p.m.
The Mad Hatter Costume Ball will be at Dance Unlimited, 501 Georgia Street – two dance floors, three bands, DJs, dance performances, costume contest, food and drink – be entertained by The Shams, Bay Area's popular hard rocking, fiddle playing, punk-infused group along with Fiddlaround, an acoustic trio performing fiddle tunes and swamp boogie and Raymond Victor: The Used Blues Band with foot stomping bluegrass music.
Saturday, December 13, 2014 – January 3, 2015:
"Gazing Through the Looking Glass" exhibit at the Vallejo Naval & Historical Museum explores how some artists have picked up Lewis's characters and made them part of contemporary art: the exhibit features work by celebrated illustrator Barry Moser, visionary artist Charles Ware, and fantasy artist Ronnie Goodman. Lectures, film, and presentations will accompany the exhibit.
Sunday, December 14, 2014:
Vallejo's Grand Homes Tour from charming historic homes ranging from imaginative craftsmanship to Victorian Italianate with a special treat to visit one of Burning Man's top creations the NeverwasHaul built in 2006 – a magical nomadic 19th century Victorian three level structure inspired by the works of Jules Verne-decked out for the holidays.
This year celebrates the Festival's 5th year anniversary with city-wide participation – creating positive exposure for Vallejo and contributing greatly to the efforts in revitalizing the Downtown.
Art mobiles, fire-shooting snails, dragons, and horses light-up Vallejo's streets – marching and dancing Maritime Academy Cadets grace the downtown, other attendees donned with top hats and Victorian attire come in droves to celebrate Wonderland once again. There is a 5 foot Santa G-Nome that shoots fire from the top of his head thirty feet into the air, giant multicolored Wagon Wheel: The Vicious Cycle, the Mad Hatter, mouse, Lion King, Cheshire Cat, as well as roving Queens and Duchesses, along with the white rabbit – giant mushrooms and cupcakes come alive, an adult and children fantasy Wonderland that continues on weekends throughout the month of December.
Website: http://HatterVallejo.com/
FACEBOOK – MAD HATTER HOLIDAY VALLEJO: https://www.facebook.com/MadHatterHolidayVallejo .
INFO: 844-344-8793
Our YouTube video produced by WhatSF, a weekly television program in San Francisco, has a growing viewership of over 100,000: http://youtu.be/jN6MhLHYFrI .
VIDEO:

For questions or comments regarding the above news announcement, contact the company/organization(s) mentioned in the text, and not this website.
Copyright © 2014 CaliforniaNewswire® and Neotrope®. California Newswire is a publication of the Neotrope News Network and a U.S. reg. TM of Neotrope.