LOS ANGELES, Calif. /California Newswire/ — Wingman Media, a full-service retail advertising agency, announces strong client growth during 2009's first quarter. The company attributes the growth to a comprehensive interactive service offering that provides clients with efficient online marketing and advertising. Wingman's interactive offering has led to new hires and an augmented client roster. Despite the economy, retail clients continue to seek Wingman Media's services for retail advertising and interactive marketing initiatives.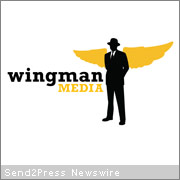 "The Wingman Media interactive team helped to improve efficiencies and decrease our cost per lead over the last six months," Chris Reis, Marketing Director for the Altamonte Springs, Fla.-based Boston Men's Health Center, the management company for Boston Medical Group, says. "Even in this tough economic environment, they have delivered a unified strategy to our online presence that has us positioned for a great 2009."
While an overhaul and redesign of Boston Medical Group's corporate web site (www.bostonmedicalgroup.com) is the most visible component of an interactive program, Wingman Media also increased their organic-search visibility, engaged with bloggers and social-media users, and significantly lowered the company's cost per patient acquisition from paid-search initiatives.
Led by Internet entrepreneur, William Fernandez, Wingman Media delivers a comprehensive set of interactive services within a single retail advertising agency.
"Most consumer-focused businesses we talk to work with multiple agencies for their interactive needs," Rich Kagan, partner, marketing and new business development, Wingman Media, says. "This promotes disjointed advertising programs and inefficient use of marketing budgets."
Aside from cost-efficiencies, Wingman Media focuses its interactive initiatives on unifying clients' on- and offline messaging. For example, a recent blog boosted traffic and awareness for its client while building online and offline continuity. The blog, found at: www.goodbyedysfunction.com, is authored by Boston Medical Group's spokesman and radio personality – Andrew.
About Wingman Media
Founded in 2003 by Rich Kagan and Steve Dubane, Wingman Media helps retail companies to achieve business results. A fast growing, Los Angeles-based retail advertising agency with TV, radio, print and interactive capabilities, the agency has 30 plus, full-time employees. They provide clients with media planning and buying; creative development and production; research and strategy; and ROI-focused reporting and analysis. Their focus is to help retail businesses increase inquiries, boost sales, increase market share and protect margins.
More information: http://www.wingmanmedia.com.