CAMBRIDGE, Mass. — LocaModa, a technology company connecting brands, digital out-of-home networks and venues to audiences through location-centric social media, today announced their partnership with Outburst Tour, a series of multi-city interactive forums addressing pressing public policy challenges through innovative "new school" solutions. After showcasing their technology at a successful kick-off Youth Forum in Phoenix, Arizona earlier in the year, LocaModa was chosen to be the platform provider for the events at both the Democratic National Convention and the Republican National Convention.
OUTBURST! events consist of live 90-minute intense interactive forums between experts and respected public individuals in the realm of politics and public policy. LocaModa's interactive media platform (www.locamoda.com) and Wiffiti(TM) application allow audience members, panel experts, and viewers from home to participate in the discussion in real-time via text messaging. All responses are captured on large projection screens in the venues, and all messages are also viewable online.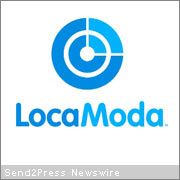 "The turnout at the events continues to grow, and the number of messages streaming in has been incredible," commented Charles Ellison, columnist for the Washington Times and one of Outburst's organizers. "Wiffiti allows the audience to stay actively involved in the discussion throughout the forums, which puts our social media message into practice in a timely, engaging way."
"The face of politics has changed dramatically throughout this election, and emerging media technologies have clearly taken center stage," said Jayne Karolow, Director of Community at LocaModa. "The Outburst forum at the DNC gave us a chance to showcase Wiffiti's capabilities for sparking intense debates that extend far beyond the venue itself. The forum panelists did an amazing job at propelling the digital conversation forward while still giving the audience control of the dialogue. It's so rewarding for us to see Wiffiti used in this way."
CEO Stephen Randall is most excited to see LocaModa's products being implemented on both sides of the election: "We're fortunate to be involved in both the DNC and the RNC. The Democrats have gotten the majority of the buzz for employing emerging media in their campaigns, so we're proud to be opening up the social media dialogue to both parties."
The next Outburst Tour event is scheduled for the Republican National Convention in St. Paul, Minnesota on August 31st, with follow up events scheduled for early Fall.
About LocaModa
LocaModa is a technology company that provides an interactive media platform connecting digital out-of-home, mobile and web networks. The company's platform connects people and places, enabling them to access and control media in their favorite places and online. LocaModa connects people in bars, cafes, colleges, public spaces and conferences. The company is privately held, headquartered in Massachusetts and founded by Stephen Randall, a former EVP/Founder of Symbian. True to its global vision, LocaModa is internationally backed by Dace Ventures in USA, Mahindra Group in India and Sumitomo Corporation of Japan, via its U.S.-based strategic investing arm, PresidioSTX.
[tags]LocaModa[/tags]