VENICE, Calif. — Join Giggly Sprout and Gumbo Wobbly as they take you on a playful family adventure using research from leading authorities in the fields of brain science and psychology. Funny Bone Logic is an interactive DVD with games for developing minds ages 3-8.
Patch Adams, MD loves the video and states, "Funny Bone Logic Weaves a Magic That Begs Taking Part." Accompanying the DVD release is an online resource of leading-edge information for parents and teachers at: www.funnybonelogic.com.
The DVD is now available online at: www.funnybonelogic.com and will be available in stores throughout North America, Europe, and Australia this spring. Endorsed by The Coalition for Quality Children's Media, Funny Bone Logic is a colorful addition to the growing market of conscious, independent media for children.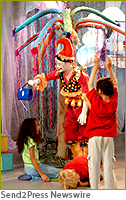 Amber Elliot, a Mom and Yoga Therapist with The International Association of Yoga Therapists says, "Funny Bone Logic gently teaches children, and reminds adults, of some important lessons about the healing qualities of laughter, play and mindfulness." Funny Bone Logic stars the loveable live characters Giggly Sprout and Gumbo Wobbly, giving the program a warm, organic feeling that is refreshing in a world of fast-moving, finely-polished, computer-animated characters.
For additional information about The Funny Bone Logic DVD and the new online parent/teacher resource, please contact Jacob Devaney, or visit www.funnybonelogic.com
Founded in the spring of 1996, Living Folklore, Inc. creates live performances and media that awakens the heart with humor, engages the mind with beauty, and inspires a playful dialogue across cultures and generations.
[tags]Funny Bone Logic DVD, Living Folklore Inc[/tags]