SAN FRANCISCO, Calif. — On Sunday, December 16 at 2:00 p.m., a Guinness World Records (GWR) adjudicator from the United Kingdom will attend a record-breaking attempt by Dr. Thienna Ho. Dr. Thienna is challenging the current record of 4,656 squats in one hour. The event will be held at the San Francisco State University Basketball Gymnasium.
Currently, Dr. Thienna's personal record is 5,389 which exceeds the current record held by Attila Horvath, recorded on January 30, 2002. At the age of 40, Dr. Thienna can still do over 10,000 squats per week and is ready to grab the record-holding title.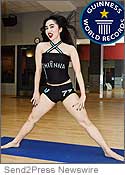 Dr. Thienna explains that the reason she is so thrilled about this event, is not only the attempt to break the record, but to share through the event, how healthy squats can make people.
"Squats can really keep people looking young and healthy," she explains. "It's the king of all exercises."
Generally, people hate the idea of squatting because it can be so repetitious. However, if done correctly, squats work every muscle in the body. They also strengthen the heart and maintain flexibility.
"My strength and stamina/endurance have primarily been gained from practicing my 'Natural Fairskin Method' in a book I recently authored, 'Unlocking the Mystery of Skin Color,'" Dr. Thienna, says. "Skin health reflects overall health."
Dr. Thienna was born in Saigon, Vietnam three months after Viet Cong forces attacked the city during the infamous Tet Offensive. Eleven years later, Dr. Thienna and her family fled communist Vietnam in a 50-foot wooden boat that carried 285 passengers. On its way to Indonesia, the vessel was attacked by pirates. Less than one year later, Dr. Thienna's family immigrated to the U.S. and settled in San Francisco.
Dr. Thienna is founder of Thienna, Inc. and is one of the world's leading authorities on human skin color. She holds a number of academic degrees, including a BA in Economics; a BS in Microbiology; a Graduate Certificate in Genetic Engineering; an MA in Business Administration; and a Ph.D. in Scientific Nutrition. She also has performed significant additional study in the fields of chemistry, biology, and molecular biology. At the age of 27, Dr. Thienna started a small business that has blossomed into a million-dollar success.
Several sponsors have joined together to support Dr. Thienna in her personal achievement and they include: CaliToday.com; GG Connections; KTR; NetworkPCB.com; Legaldigitalvideo.com; Piercey Toyota; Redgraphic.com; Saratogadentalspa.com; Call Centers International; and Thienna, Inc.
For more information on the book and the event: visit: http://www.thienna.com/global-event_avi.html
Disclaimer: If not properly trained, there is potential for injury when doing squats so a fitness professional should be consulted prior to emulating squat exercises.
[tags]record breaking attempt by Dr Thienna Ho, Guinness World Records, Thienna Inc, Most Squats in One Hour[/tags]