LOS ANGELES, Calif. /California Newswire/ — This week, SEIU Local 2015, one of the largest unions of long term care workers in the nation with representational responsibility for over 325,000 home care and nursing home workers throughout California, celebrates its one year anniversary and numerous accomplishments made possible because of the hard work and leadership of its members and the power of a collective voice.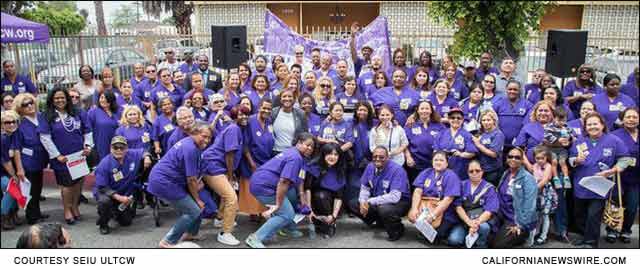 Established on June 2, 2015, when long term care workers from three SEIU Locals were united into a single statewide union, SEIU Local 2015 is strengthened by the compassion, leadership, and diversity of its members. Long term care workers care for some of our most vulnerable populations, like low income seniors and people with disabilities. Local 2015's membership is a true representation of our state's diversity as our members come from a variety of countries and speak a variety of languages like Armenian, Cantonese, Korean, Mandarin, Russian, Spanish, Vietnamese, and others. A large portion of our membership are women of color, who live and work in 50 of the 58 counties that make up California.
Thanks to the hard work of its membership and key partner alliances, SEIU Local 2015 celebrates the following accomplishments:
A Livable Wage for All Californians – SEIU Local 2015 was at the forefront in fighting for a path to $15 for all Californians. CA was the first state in the nation to approve a statewide minimum wage of $15 for all workers, and is the only state to pass 3 paid sick days for all workers – including In Home Supportive Services (IHSS) providers.
Fair Contracts for Long Term Care workers – Over 2,000 nursing home workers and close to 150,000 home care workers throughout the state went to the bargaining table to win contracts that get them on a path towards livable wages, access to earned benefits, and better working conditions to ensure they can provide the quality care for their recipients deserve.
Overtime Pay for Home Care Workers – For years, home care providers were excluded from the Federal Labor Standards Act (FLSA). After months of lobbying, the implementation of overtime pay for IHSS providers in the State of California became a reality.
Thousands of Signatures Collected for Priority Ballot Measures – Members and supporters collected signatures for priority ballot measures to move forward policies that could ensure a better quality of life for our members outside of the workplace, including the Renewal of Prop 30, the Tobacco Tax, the Public Safety and Rehabilitation Act (Criminal Justice Reform), and local affordable housing measures.
SEIU Local 2015's Provisional Officers and member leaders shared the following reactions:
"I am proud to call SEIU Local 2015 my union, my family," said Andrew O'Bryan, Homecare Worker and SEIU Local 2015 member leader, Contra Costa County. "As one of the few homecare workers in the state who actually have access to healthcare and retirement security, I vow to continue to fight until I see the day that all of my Local 2015 brothers and sisters have the same."
"The work we do matters and the people we care for do, too," said Vanessa Peña, Homecare Worker and SEIU Local 2015 member leader Los Angeles County. "We have accomplished a lot for nursing home workers, homecare workers, and the people we care for. I stand ready to continue to fight and win, because when we all come together and fight as one we show the power of the people and what unions can do!"
"This is just the beginning," said Laphonza Butler, Provisional President, SEIU Local 2015. "Members of Local 2015 have worked tirelessly to help raise the minimum wage for all Californians, established policies and won contracts that protect and respect long term care workers, and supported numerous ballot measures that work toward improving quality of life for our communities. All this and more was accomplished in just twelve months. I can't wait to see what we will continue to accomplish, because when we fight together – we win!"
"Long term care workers are the unsung heroes of this nation," said April Verrett, Provisional Officer, SEIU Local 2015. "Despite constantly being challenged with adversity, they provide quality care to our most vulnerable populations – seniors, people with disabilities, and the infirm. With one collective voice, we have and will continue to fight for the dignity and respect this workforce and their care recipients deserve."
"There are no limits to what we can accomplish when we work together," said Kim Evon, Provisional Officer, SEIU Local 2015. "When 325,000 long term care workers fight together, they make things happen for all Californians. We really are an unstoppable force."
"Even in this short amount of time, the members of Local 2015 have continuously stood on the right side of history" said Arnulfo De La Cruz, Provisional Officer, SEIU Local 2015 "That's because we know firsthand the issues affecting working people, low income communities, and people of color. The issues that affect our lives everyday are the very issues that drive us to the Capitol to lobby, to the polls to vote, and to the bargaining table to improve living conditions."
SEIU Local 2015 has made great strides in improving the lives of working families, long term care workers, seniors, and people with disabilities who rely on quality long term care. Their commitment to improving quality of life conditions will continue to reap victories in years to come.
Current and future priorities for SEIU Local 2015 include:
Statewide collective bargaining for over 300,000 IHSS Providers. To date, San Bernardino and San Mateo County IHSS Providers are among the first to initiate negotiations with the statewide public authority.
Safe Staffing for Nursing Homes Bill (AB 2079) – Under the "Caregivers Count" campaign, AB 2079, would help increase direct care staffing levels at skilled nursing facilities to improve the quality of care for seniors, the infirm, and the disabled.
Secure Choice Board Retirement Bill (SB 1234) – With a growing senior population and most workers unprepared for retirement, California faces a retirement crisis. This bill would allow workers an opportunity ensure a secure retirement.
Under the "Dignity Can't Wait" slogan, Local 2015 will continue to work closely with SEIU CA State Council to ensure the permanent 7% restoration of hours to the In-Home Supportive Services program budget.
Racial Justice – Work towards ending structural racism by expanding our policy priorities and partnerships to address income inequality, criminal justice reform, and access to services for all.
Environmental Justice – We will join the fight to make clean air and water a human right, for environmental justice in all communities, and to address climate change.
Immigrant Justice – In the fight for commonsense immigration reform, SEIU will build momentum for federal legislation, drive policy victories at the state and local level, mobilize the Latino, Asian American and Pacific Islander (AAPI), African and Caribbean electorate, and build public support for reform.
Follow the conversation: @SEIU2015 #TeamSEIU2015
About SEIU Local 2015
With representational responsibility for over 325,000 home care and nursing home workers, SEIU Local 2015 is the largest long term care union in California. It is our mission to unleash the collective power of long term care workers, their families, and their communities, harness the power of technology, and build a broad movement to disrupt the unjust status quo in order to bring lasting transformational change towards a more just society for all.