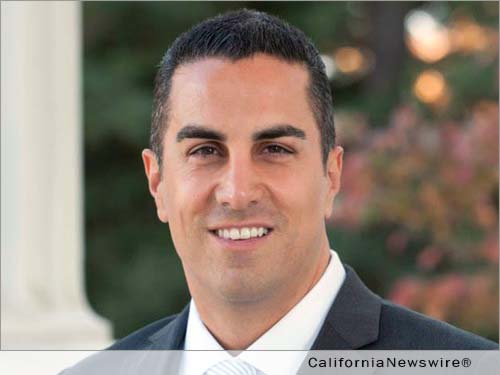 SACRAMENTO, Calif. /California Newswire/ — Most homeowners want cheaper water bills, says Assemblyman Mike Gatto (D-Los Angeles). If provided the infrastructure, they'd gladly use recycled water or water-efficient technologies to wash cars and irrigate lawns. Many cities have vast reservoirs of recycled water. If offered a market, they'd gladly allow the water to be used for more than just landscaping medians. Drought-scorched California moved one step closer to a sensible marriage of these interests, passing two key pieces of legislation both authored by Gatto.
AB 2282, which requires the state to adopt building standards for recycled water in newly constructed commercial and residential buildings, passed the legislature today by a vote of 71-0. This bill was followed by a companion bill, AB 2636, which establishes CalConserve, a revolving-loan program to finance water-efficiency projects for home owners and businesses, and help cities and counties reach their water-reduction goals. AB 2636 passed the legislature by a vote of 70-0.
Conserving water has long been a goal of California policymakers, but with the state in the midst of a disastrous drought, conserving precious water resources has never been more important. Earlier this year, water exports to Central Valley farms and Southern California homes fell to zero for the first time in history. Crops are dying, cities are running out of drinking water, and streams are running dry. The drought is even forcing children in the Central Valley to leave school, as their parents are forced to abandon drought-scorched crops in search of work elsewhere.
"The drought is a reminder that we need to make the best use of our limited water resources," said Gatto. "The technology exists to save or recycle millions of gallons of water, but the infrastructure in our homes and businesses needs to be updated. Recycled water is cleaner than most of the water in our natural aquifers. It's wasteful and inefficient to dump this water into the ocean when we could use it for productive purposes."
It is expected that upgrading infrastructure to increase water-use efficiency and provide new sources of recycled water will reduce water bills for many. AB 2282 specifically protects homeowners and businesses by requiring state agencies to consider the cost of various recycled-water infrastructure and determine which methods will provide the greatest cost savings for consumers.
AB 2282 and AB 2636 continue Gatto's legislative efforts to address important water-policy issues. In 2011, the legislature passed Gatto's AB 849, which fostered the use of graywater technology, and in 2012, the legislature passed Gatto's bill AB 2230, requiring all new carwashes to use 60% recycled water by 2014.
AB 2282 and AB 2636 now move to the Governor for approval. "I am hopeful that the Governor will see the need to help homeowners and businesses conserve water," said Gatto. "Investing in recycled water and water-use efficiency will help us whether this drought, and future droughts, more easily."
Mike Gatto is the Chairman of the Appropriations Committee in the California State Assembly and joint author of the 2014 Water Bond. He represents Burbank, Glendale, La Cañada Flintridge, La Crescenta, Montrose, and the Los Angeles neighborhoods of Atwater Village, East Hollywood, Franklin Hills, Hollywood Hills, Los Feliz, and Silver Lake. Follow him on Twitter @MikeGatto or visit www.asm.ca.gov/gatto

Editorial note: above text is based on news release as provided by Mr. Gatto's office.