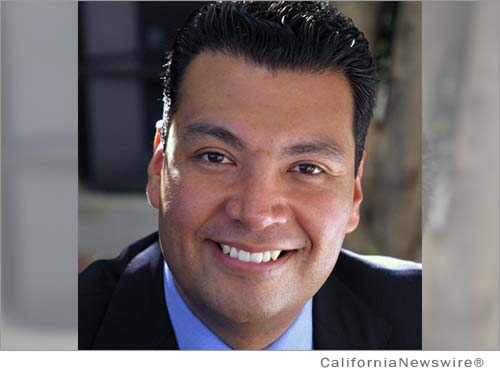 SACRAMENTO, Calif. /California Newswire/– This week, Calif. Governor Jerry Brown signed into law Senate Bill 270 which will phase out single-use plastic bags in the state of California. The bill was joint authored by Senators Alex Padilla (D-Pacoima), Kevin de Leon (D-Los Angeles) and Ricardo Lara (D-Huntington Park/Long Beach). The bill goes into effect on January 1, 2015.
"I applaud Governor Brown for signing SB 270 into law. He continues to lead our state forward with a commitment to sustainability," Senator Padilla said. "A throw-away society is not sustainable. This new law will greatly reduce the flow of billions of single-use plastic bags that litter our communities and harm our environment each year. Moving from single-use plastic bags to reusable bags is common sense. Governor Brown's signature reflects our commitment to protect the environment and reduce government costs," Padilla added.
"Single-use plastic bags litter our beaches, our mountains, deserts, rivers, streams and lakes. SB 270 addresses this problem while striking the right balance. It protects the environment as well as California jobs as we transition to reusable bags and a greener economy," said Senator Alex Padilla.
"SB 270 is a win-win for the environment and for California workers," said Senate President pro Tempore-elect Kevin de Le?n. "We are doing away with the scourge of single-use plastic bags and closing the loop on the plastic waste stream, all while maintaining – and growing – California jobs. As we further develop our green economy, SB 270 will be a model for balancing the health of the planet with the preservation of people's livelihoods," added Senator De Leon.
"This bill protects our environment by reducing plastic in our waste stream, and provides resources for California bag manufacturers to retrain their workers and re-engineer their operations to make plastic bags meet new, environmentally sound criteria. It's a win for the environment, a win for manufacturers and a win for jobs," said Senator Ricardo Lara.
"This measure will result in the elimination of the more than 13 billion single-use plastic shopping bags generated in California annually, immediately reducing a pervasive source of pollution. California policy makers have made a clear and strong statement in enacting the bag ban: Producers are responsible for the end of life of their products. If a product is too costly to society and the environment, California is prepared to move to eliminate it," said Mark Murray, Executive Director, Californians Against Waste.
"Today California took a very visible step in the fight to reduce the plastic pollution that blights our shorelines, our streets and our neighborhoods," said Ruskin Hartley, president and CEO of Santa Monica-based nonprofit Heal the Bay, which played a key role in mobilizing community support for the bag ban. "Hopefully this action will get lawmakers across the nation thinking about ways they can create green jobs and protect their local environments."
"Mujeres de La Tierra applauds Governor Brown for affirming that one can successfully balance the healing of the environment with job creation and retention as the two go hand-in hand," said Irma Muñoz, President, Mujeres de la Tierra.
"Nothing we use for a few minutes should pollute our environment for hundreds of years," said Nathan Weaver, Oceans Advocate with Environment California. "SB 270 is an important step forward to keep single-use plastic bags off our streets and out of our waterways. I applaud Governor Brown for signing this important legislation, and I thank Senators De Le?n, Padilla, and Lara for their victory."
"This will stem the tide of plastic bags littering our parks, neighborhoods, and coast, while ensuring continued consumer convenience at the grocery store. The bill also sets new environmental standards for paper bags and reusable bags. The governor's signature on this landmark bill furthers California's environmental leadership, while respecting the policies of more than 120 local jurisdictions that are phasing out single-use plastic bags," said Victoria Rome, California Legislative Director, NRDC.
"The signing of SB 270 by Governor Jerry Brown shows his faith that plastic bag manufacturing companies like Command Packaging can adapt, maintain jobs in California, and thrive by creating a more sustainable future," said Pete Grande, CEO, Command Packaging, Vernon, California.
Background
Each year, more than 13 billion single-use plastic bags are handed out by retailers. According to CalRecycle, just 3% are actually recycled in California. Plastic bags cause litter, slow sorting and jam machinery at recycling centers. The combined cost of single-use plastic bags to California consumers and state and local government for use, clean-up and disposal is estimated to be in the tens of millions of dollars annually. SB 270 phases out single-use plastic bags in California grocery stores, convenience stores, liquor stores and pharmacies.
Ninety-eight local governments throughout the state have already adopted plastic bag ban ordinances covering more than 127 cities and counties. In doing so, many of these communities have eliminated the significant costs associated with plastic bags, as well as substantially reduced the volume of bags entering landfills. The bill will save local governments millions of dollars annually.
Single-use plastic bags are also harmful to the environment, killing thousands of birds, turtles and other species. A study commissioned by the US Marine Debris Monitoring Program found that single-use plastic bags remain one of the top items found consistently during annual beach cleanups. Additionally, plastic items are estimated to compose 60-80% of all marine debris and 90% of all floating debris worldwide.
The new law will:
• Prohibit, beginning July 1, 2015, grocery stores and pharmacies from making available single-use plastic bags.
• Prohibit, beginning July 1, 2016, convenience stores and liquor stores from making available single-use plastic bags.
• Grandfather in existing local ordinances.
• Provide up to $2 million in competitive loans to businesses transitioning to the manufacture of reusable bags.
Senator Alex Padilla, 41, graduated from MIT with a degree in Mechanical Engineering and just completed serving a five year term on the MIT Board. He is Chair of the Senate Energy, Utilities and Communications Committee and represents the more than 1,100,000 residents of the 20th State Senate District in Los Angeles.