LOS ANGELES, Calif. — Georg van Handel (CEO) and Chris Honetschlaeger (President) with BETA Records, LLC, announced today that they will partner with Fliptrack to provide music video creation tools for their artists and listeners. Fliptrack's technology will enable BETA artists to easily create music videos of their songs to express themselves in a simple way and with a wide reach.
Fans and artists alike will enjoy making and sharing music videos in BETA's upcoming social music community. BETA artists will gain even greater exposure with the availability of their songs on www.fliptrack.com, and from the viral spreading of these videos on MySpace, Facebook, etc. with the Fliptrack widget.
BETA Records will utilize Fliptrack to enhance a highly immersive and engaging music experience that creates close connections between unsigned artists and indie music fans on the new site slated for release later this year. Independent artists can easily upload their music and get exposed to a world-wide audience.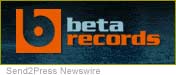 "Simple, quick, and fun. Those pillars we share in tune with Fliptrack, and we're ecstatic to announce that our artists and fans will enjoy making music videos with their technology from our music catalog," said Chris Harper, CXO (Chief Experience Officer) with BETA Records, LLC.
"We are very excited to be partnering with BETA Records to enhance their promotional capabilities and to provide the Fliptrack music video capabilities to BETA Records artists and web site visitors. We also believe the addition of BETA Records song tracks to the Fliptrack site will enhance our user experience," said Stewart Putney, CEO and Founder of Fliptrack.
About BETA Records
BETA Records leverages online techniques, combined with valuable label resources, to discover independent artists and expose them in an upcoming robust social music community of listeners. With localized versions of the site in multiple countries, artists can truly get exposed to a world-wide audience, and fans can have fun listening with their friends and making new ones. For more information, visit http://www.betarecords.com.
About Fliptrack
Fliptrack, based in Mountain View, California, uses a patent-pending technology that enables users to create their own music videos by combining personal photos and video content with Fliptrack's catalog of licensed music. Users can view their music videos at www.fliptrack.com or upload them to other social networking sites such as Friendster or MySpace. Fliptrack's service is free to users. Fliptrack differentiates itself from other customized video sites by creating templates that allow users to drop photos onto a music track's beat, making music the centerpiece of the videos, not an afterthought.
[tags]Georg van Handel, Chris Honetschlaeger, BETA Records LLC, Fliptrack music video tools[/tags]