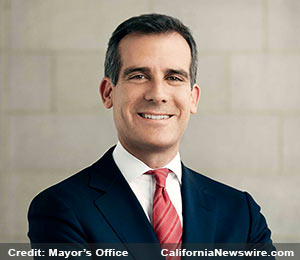 LOS ANGELES, Calif. /California Newswire/ — L.A. Mayor Eric Garcetti on Monday appointed Ken Ziffren to be his chief advisor on motion picture and television production. Ziffren will build on the foundation laid by Tom Sherak to help Mayor Garcetti strengthen our economy and middle class by increasing local production through expanded state incentives and cutting red tape at City Hall.
"Stopping runaway production is about protecting our middle class," Mayor Garcetti said. "Ken will be a powerful leader in our fight against other states that are taking our jobs, and he will be aggressive about streamlining government so red tape doesn't contribute to driving production away."
"This is a critical moment for our industry and our economy," Ziffren said. "If we don't fight back now, these jobs are going to be lost for good, and that would be a devastating blow to our middle class. This is about jobs for carpenters, electricians, makeup artists — good jobs that leave enough over at the end of the month to save for retirement, save for the kids' college, and to spend in our neighborhoods."
Ziffren brings to Mayor Garcetti's office deep experience across the entertainment industry and in bringing together disparate parties to achieve common goals. He was key player in resolving a Writer's Guild strike and has represented the NFL in negotiating network television contracts.
Ziffren is one of the nation's foremost entertainment lawyers. As founding partner of Ziffren Brittenham, his clients are leading entertainment industry figures and companies. After earning a B.A. from Northwestern he earned his law degree from UCLA, where he was editor-in-chief of the UCLA Law Review. He clerked for U.S. Supreme Court Chief Justice Earl Warren and is Co-Chairman of the UCLA School of Law Board of Advisors and Chairman of its Entertainment & Media Law Program.
Ziffren will have key support in his work from the Director of the Mayor's Office of Motion Picture and Television Production, Rajiv Dalal, and former MPAA head Bob Pisano, who will continue as an outside advisor.
Of the 45 big budget feature films of 2012 and 2013, only one was shot exclusively in California, representing a loss of thousands of jobs to other states. From 2005 to 2013, California's share of the 1-hour TV series market declined from 64% to 28%.
California's film incentive program, which Ziffren will focus on, is one of the state's most efficient and proven economic development tools, generating 51,000 jobs and providing $4.5 billion in direct spending since its inception in 2009. Every $100 million in credits results in $792 million in direct spending in California.
Mayor Garcetti's work to increase local film and television production is a key component to his back to basics agenda, which is focused on boosting L.A.'s economy and improving efficiency and effectiveness at City Hall. Garcetti is a longtime champion for entertainment industry jobs. He recently signed into law legislation he wrote as a Councilmember to waive city fees for television pilots, with the goal of landing full series. Garcetti also spearheaded local tax exemptions for creative professionals and local tax incentives for productions and entertainment companies.
Editorial note: Content based on press release as issued by Office of Los Angeles Mayor Eric Garcetti.