LOS ANGELES, Calif. /California Newswire/ — Mayor Antonio Villaraigosa on Thursday welcomed Google, Inc., to the City of Los Angeles. Google is moving 500 jobs which had been spread across three facilities in the City of Santa Monica and consolidating them into one campus located just a few blocks from Venice Beach in the City of Los Angeles.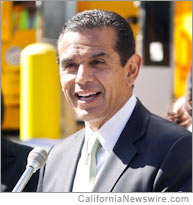 "Google's decision to move to Los Angeles is the latest sign that surf's up at LA's Silicon Beach," said Mayor Villaraigosa. "We see Google's LA opening as a catalyst that will usher in new jobs, more investment, and a stronger tech industry to Los Angeles."
"My message to LA-based venture capitalists and entertainment companies is to invest in local technology firms," said Mayor Villaraigosa. "We have a growing creative economy in Los Angeles. Let's invest locally to help it thrive."
Google provided $15.2 billion of economic activity for California businesses, website publishers and non–profits in 2010. In 2011, Google added more than 100 jobs in Southern California and the Internet giant is continuing to hire. Three-quarters of the jobs in Google's LA office will be engineering jobs. The remaining quarter of the positions will be sales jobs.