LOS ANGELES, Calif. /California Newswire/ — Mayor Antonio Villaraigosa and United States Commerce Under Secretary for International Trade Francisco Sanchez hosted mayors and business leaders at the US-Mexico Binational Mayors Summit on Friday. The summit featured mayors from California and Baja California discussing ways in which cities can play an important role in the promotion of international trade.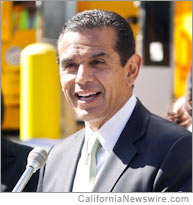 "Ninety-five percent of the world's consumers are outside of the United States, and over the next 10 years, economists project that 80 percent of global economic growth will take place outside of US borders," said Mayor Villaraigosa, "With numbers like these, developing a strong export economy in the Los Angeles region in the coming years won't be a luxury. It will be a necessity."
During his remarks at the summit, Mayor Villaraigosa discussed the modernization of LAX, improvements at the Port of Los Angeles, and the recent launch of the Los Angeles Regional Export Council.
The summit gave mayors an opportunity to discuss trade promotion with federal, state, and local export service providers including the Department of Commerce, Small Business Administration, Centers for International Trade, and the Los Angeles Area Chamber of Commerce.
"Mexico is the United States' third largest trading partner and second largest export market," said Francisco Sánchez, Under Secretary of Commerce for International Trade, "In order to achieve full economic recovery, it is imperative that we continue to strengthen this relationship and to ensure it provides both greater opportunities and benefits for all of our peoples."
The City of Los Angeles has prioritized export promotion because every $1 billion in exports supports 5,500 jobs in the US, according to a report from the International Trade Administration.
Mayor Villaraigosa announced the launch of the Los Angeles Regional Export Council on October 31, 2011. The export council is a public-private partnership that will coordinate export services in the LA region and help companies find the services they need to grow their business and create new jobs.
Helping local businesses export is part of Mayor Villaraigosa's partnering for economic growth strategy, a core component of his five-step plan for creating jobs in LA. The five steps of Mayor Villaraigosa's job-creation plan are: (1) reforming LA's business tax; (2) reducing red tape; (3) partnering for economic growth; (4) modernizing LAX and the Port of Los Angeles; and (5) building a 21st century transportation network.