LOS ANGELES, Calif. /California Newswire/ — L.A. Mayor Antonio Villaraigosa delivered a major address on "Building a More Livable City" on Wednesday, highlighting the concrete steps his administration has taken in the face of the Great Recession to build a better, more livable city for generations to come.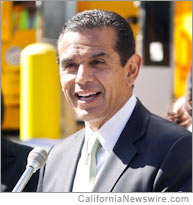 "When I took office in 2005, I made a commitment to work together to build a better, a more livable Los Angeles. To change how the City looked and how we moved," said Mayor Villaraigosa. "Since 2005, we have made a series of investments in the City to realize this vision. These investments are job generators and down payments to secure our future prosperity and ensure our City's sustainability."
Mayor Villaraigosa made his remarks at UCLA to the "Mayoral Housing, Transportation and Jobs Summit," an annual event sponsored by the Los Angeles Business Council.
The Mayor used his "Building a More Livable City" speech to highlight:
(1) the development of seven innovative New Community Plans — the most significant overhauls to LA's local planning vision in many decades
(2) the goal of constructing 50 new pocket parks over the next two years; and
(3) on-going efforts to promote transit oriented development throughout Los Angeles including along the Crenshaw and Exposition Lines.
Mayor Villaraigosa also used his remarks to discuss the ways in which the City is investing public dollars to put Angelenos to work including: the modernization of LAX which is generating nearly 40,000 jobs; the continuing enhancement of the Port of LA which is generating nearly 20,000 jobs; and the construction of a 21st century transportation network creating 166,000 jobs over the life of Measure R.
Text of speech (PDF): http://mayor.lacity.org/stellent/groups/ElectedOfficials/@MYR_CH_Contributor/documents/Contributor_Web_Content/LACITYP_018944.pdf .